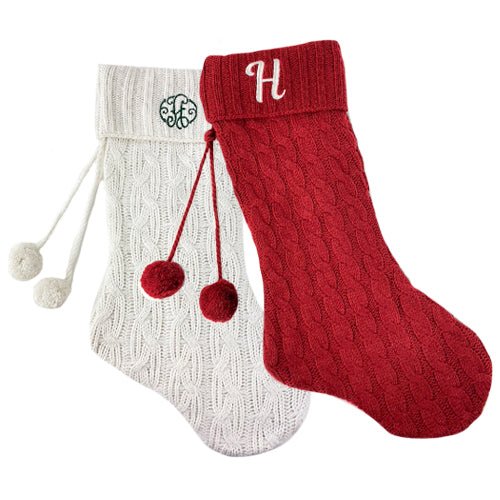 DESCRIPTION
Our Cable Knit Stocking is just perfect for Christmas.  It's generously sized so lots of goodies will fit inside and it wears a monogram so well on its cuff.  There is a lining inside to keep the contents secure, and plaited cord.  A large single initial looks gorgeous on these, we love Six Pence shown on the red stocking below  
The stocking comes in ivory or deep red.
Monograms Shown: Our White Stocking shows A monogrammed in a decorate Lindsay shape font in Forest Green thread. And the Red Stocking shows H monogrammed in Handy Script font in White thread. 
Composition: Cotton / poly mix.
Dimensions:  50cm height x 18cm wide across the top
Care: Wash at 30 degrees and hang dry. 
Item added to your cart