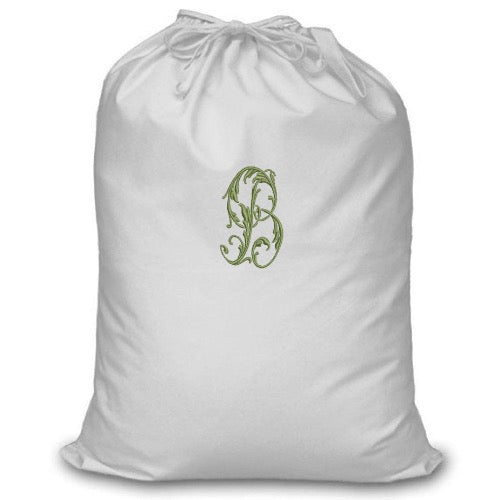 DESCRIPTION
Our heavy duty Laundry Sack has double drawcords and a hanging loop. The uses for this very large bag go well beyond laundry:  easy-to-identify storage, bedroom tidying, boarding school bedding, toy storage, a gift sack, we could go on and on.
Monogram Shown: Ivy font in Fern Green, Flower Font, Athletic font in Navy thread. 
Dimensions: Measures 60cm wide x 76cm high.
Composition: The Natural colour bag is made of 100% cotton canvas. The Red and Black bags are lighter weight 100% cotton but just as durable.  All of them are plain, without any hemstitching or decorative embroidery, so they are a blank canvas for a great monogram.
Care: Machine washable at 40 degrees, line dry.
Item added to your cart