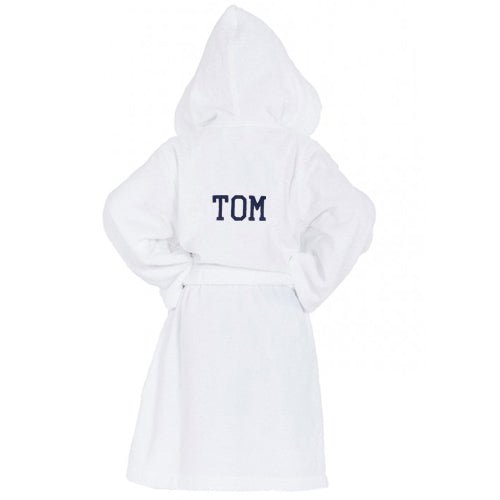 DESCRIPTION
This is a child's version of our very popular Leighton Robe. The Kids' Leighton Robe is a wrap around kimono-style with a hood which keeps little heads warm and dry after a bath or swim. This fluffy, lightweight robe is made with untwisted 100% cotton yarn, which makes it soft and absorbent.  
We monogram the child's name across the back as standard.  But if you'd like the design on the front left shoulder, please let us know in Special Instructions at checkout.  
Monograms Shown: The first image shows Typewriter font in Navy thread, followed by Ballentine font in Cornflower thread and then Royal Blue thread. 
Composition: 100% cotton, includes a hood, two front pockets and a detachable belt.  
Dimensions:
Size Guide:  
Ages 2-3 - 60cm length; 120cm belt length; 30cm sleeve length
Ages 4-5 - 80cm length; 130cm belt length; 32cm sleeve length
Ages 6-7 - 85cm length; 140cm belt length; 34cm sleeve length
Ages 8-9 - 90cm length; 145cm belt length; 37cm sleeve length
Ages 10-11 - 95cm length; 150cm belt length; 43cm sleeve length
Ages 12-13 - 100 length; 155cm belt length; 50cm sleeve length
Care: Wash at 40 max, line dry. 
Item added to your cart