Wide Grosgrain Ribbon
VVR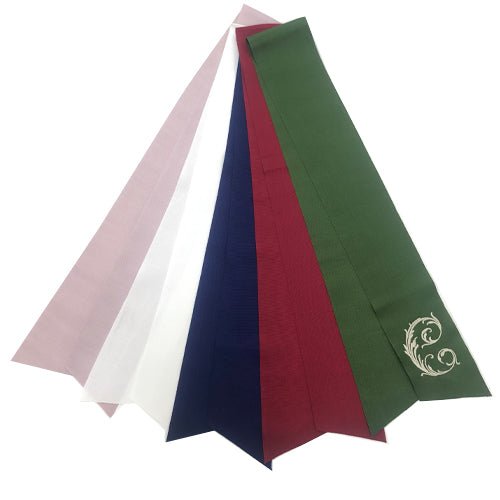 DESCRIPTION
Whether it's to tie a beautiful bouquet, to dress a basket, to trim a wreath or any other idea, a gorgeous monogrammed grosgrain ribbon is the perfect finishing touch.  Ours is 100% rayon petersham, which is colourfast and has a matte finish that wears an embroidered monogram well.  
The ribbon is a stunning 75mm wide so there plenty of room for a lovely monogram and and it comes in a 1.5m long length to leave generous tails after being tied in a bow. We send the ribbon untied so you can use it in whatever way suits the occasion best.
We love single initial font styles like Ivy, Arlene and Antique Rose for these ribbons, but a gorgeous script like Four Score or Monterrey would be lovely too.  Have a play with all the font style options to see what you think.  
Please note that longer text will be embroidered lengthwise but single initials and monogram shapes will be embroidered vertically. If you have any special requests for the font size and/or placement, feel free to mention this in Special Instructions at checkout.  

We stock this ribbon in five popular colours but we can special order other shades, do let us know if you have a particular colour in mind.
Dimensions:  1.5m length x 75mm width
Material:  100% rayon Petersham
Care:  Machine wash on delicate cycle, line dry.  
Item added to your cart