Extra Large Hemstitch Napkin
ACR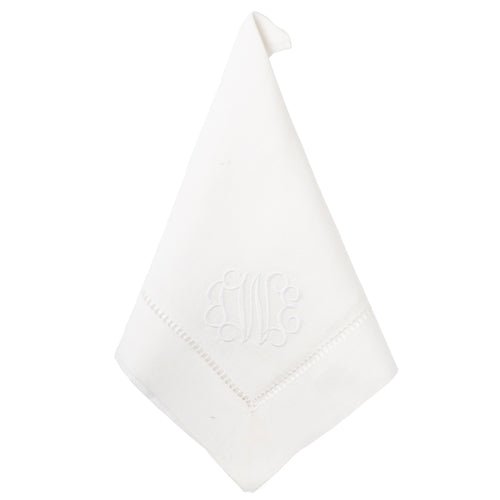 DESCRIPTION
These are our most formal linen napkins: crisp, elegant and generously sized, with a gorgeous hemstitch detail.  The Extra Large Hemstitch Napkin measures 60cm x 60cm which is appropriate for formal dinners, weddings or other events when a large napkin is required. When they are beautifully monogrammed and folded, these napkins make a stunning statement on your table.
We will place the monogram in the corner on the diagonal.  However if you would like it elsewhere, perhaps to accommodate a particular style of folding the napkin to accommodate a menu or napkin ring, please mention it in Special Instructions at checkout.
Extra Large Linen Hemstitch Napkins are sold in white only, either singly or in sets of 4. 
Monograms Shown: The first image shows our traditions Intertwined font, where the surname is usually the most dominant central letter. This has been sewn in white for a tone-on-tone effect. 'Fiona' is embroidered in golden thread in Ballentine font. 
Composition: 100% linen. Made exclusively for us in Lithuania.
Dimensions: 60cm x 60cm with 5cm edge outside of hemstitch border
Care: Wash at 40 degrees max, line dry and iron on high heat
Item added to your cart