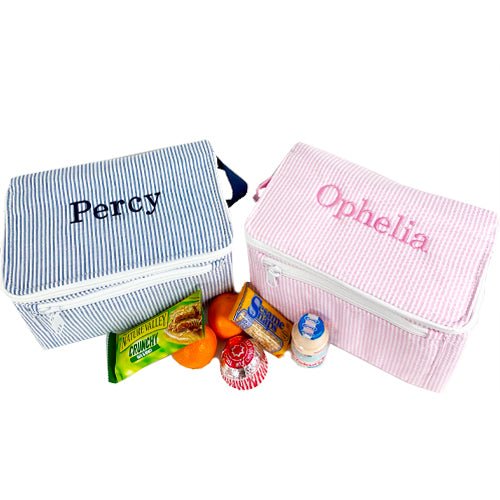 DESCRIPTION
An insulated lunch box covered in cotton seersucker... what's not to love?  This is perfect for school or nursery, car journeys, trips to the park or a packed lunch at work. And it suits both little kids and grown up ones too... just design a monogram that works well for the person who will use it. 
We love the two colour Futura Border font shown on the image here.  It's got navy thread on the outside and cornflower on the inside. We also love the traditional look of Schoolbook font on these, or perhaps a bold three letter circle design. We will place the monogram on the top of the cooler bag, under the handle.
There is a zipped front pocket for storing a napkin, utensils, a love note from mum...the perfect size for pre-school or primary school. 
Monograms Shown: We have shown Schoolbook font on the first image, in Navy and then Candy Floss Pink thread colours. The next image shows Futura Border font in Navy and Turquoise thread. 
Composition:  Inside is insulated PVC, exterior is 100% cotton seersucker.  Handle is nylon webbing.
Dimensions: 23cm wide x 15cm high x 15cm deep.  
Care: Wipe clean. 
Item added to your cart