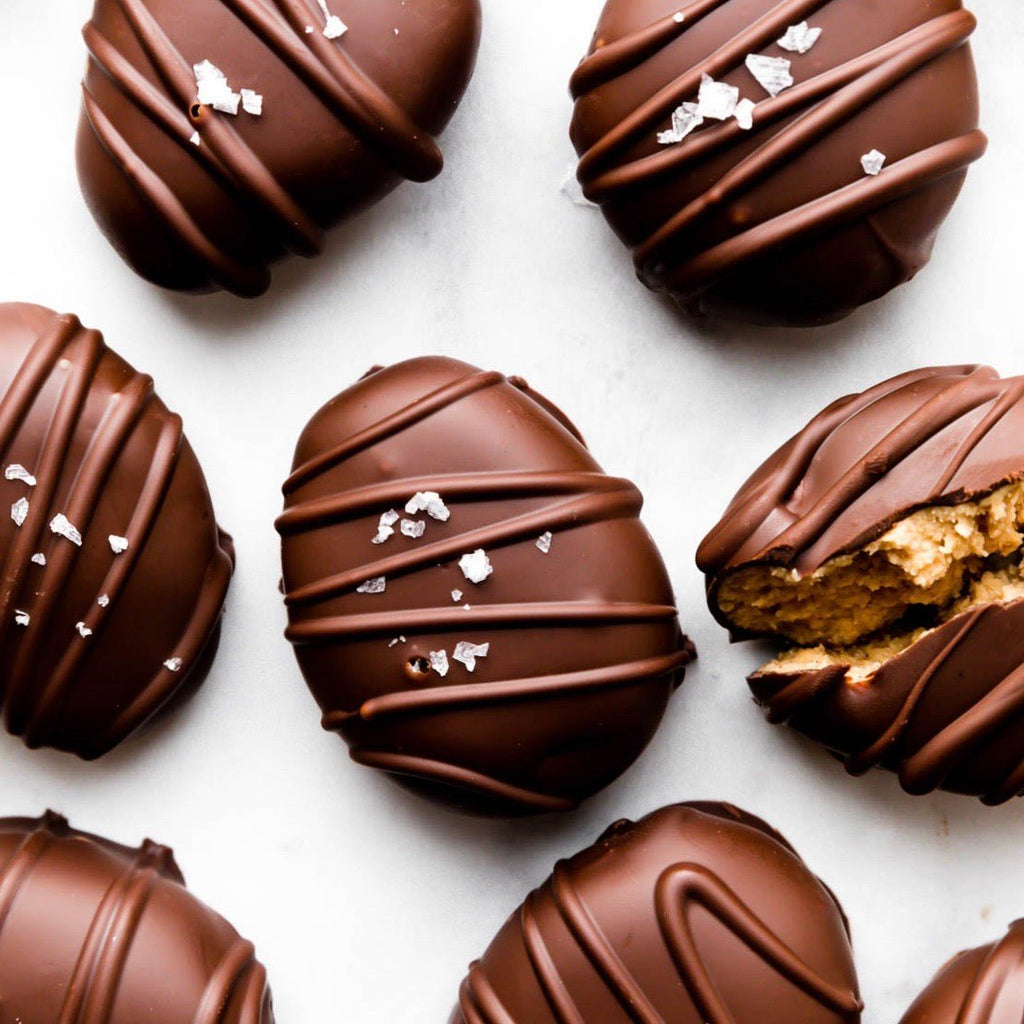 I've always loved to bake but I've never been very good at chocolate. This recipe is the exception. Chocolate peanut butter eggs are an Easter tradition where I grew up in Pennsylvania.  If we didn't make them, we bought them at the Amish farmers market along with all our other Easter lunch ingredients.
But there's no reason not to make them really... there are seven ingredients only, and no baking, so the homemade Easter egg recipe is very simple. They're a one-week-a-year special treat.
Now that I make them for my own children, I swap the peanut butter for almond butter, cashew butter, hazelnut butter... they're all delicious.  But note that it's important to use smooth, creamy nut butters, not the oily natural ground ones, to get the right texture for the filling.  A couple that I'd recommend include Whole Earth's 100% Nuts Smooth Peanut Butter or Almond Butter and Skippy Smooth Peanut Butter (avoid the reduced fat variety).
The other tip for success is to use real baking chocolate, not chocolate chips or sweet shop chocolate bars for the perfect coating consistency. I like the British brands Green & Black's or Menier. 
Because the filling needs to chill for at least a couple of hours, it's worth preparing it the day before or early morning on the day you need them.  
Finally, you can finish the eggs with course sea salt, sprinkles, or drizzles of melted white chocolate if you want them to look extra fancy.  
Sit back with a hot mug of tea, perched on a monogrammed linen coaster of course, a good book and some homemade chocolate peanut butter eggs.... the perfect recipe for Easter weekend. 
Ingredients
85g Softened Butter at room temperature (either lightly salted or unsalted)

250g Creamy Peanut Butter - use processed creamy peanut (or almond or other nut) butter rather than the oily natural butters

300g Icing Sugar (either golden or white)

1/2 teaspoon Pure Vanilla Extract

Pinch of Salt

350g Dark Baking Chocolate coarsely chopped - be sure to use good quality baking chocolate rather than chocolate chips or sweet shop chocolate bars for the best coating consistency

1 teaspoon Vegetable Oil to thin the melted chocolate for coating

Coarse sea salt, sprinkles or melted white chocolate for decorating
Making the Nut Butter Mixture
 With a handheld or stand mixer, beat the butter on medium-high speed until creamy and smooth, for about 2 minutes.

Add the nut butter and beat until combined, about 1 minute.

Add the confectioners' sugar, vanilla extract and salt, and mix on low speed for 2 minutes until everything is combined. The mixture will be a little soft and crumbly.
Forming the Eggs
Prepare a baking sheet by coating with parchment or greaseproof paper. 

Measure a large spoonful (weighing 30g) of peanut butter mixture and roll it into a ball.

Flatten the ball between your palms and pinch one end into an egg shape.

Place the egg on the prepared baking sheet and repeat the process with remaining peanut butter mixture. Note that the mixture can be a little crumbly but the warmth of your hands will bring it together. If you find the peanut butter mixture becoming too soft to handle, chill in the refrigerator for 15 minutes. Alternatively, powder your hands with icing sugar to prevent sticking.

Once they're all ready, chill the shaped peanut butter eggs in the refrigerator for at least 2 hours and up to 1 day.
Coating the Eggs in Chocolate
Melt the chopped chocolate and oil together.  If using the microwave, place the chocolate and oil in a medium-sized glass bowl or glass measuring cup. Melt in 20-second increments in the microwave, stirring after each increment, until completely melted and smooth. If using the cooktop to melt the chocolate, use a glass bowl over a pan of simmering water, but be sure not to let the water touch the bottom of the bowl.

Let the melted chocolate sit for 5 minutes to cool slightly, otherwise it will melt the shaped peanut butter eggs when they are dipped.

Remove peanut butter eggs from the refrigerator. Working with one at a time, submerge into the chocolate and then carefully lift out using a fork.

Tap the fork gently on the side of the bowl/measuring cup to rid excess chocolate. Use a toothpick or a second fork to help slide the candy off of the fork and back on to the same baking sheet. If the eggs are softening and losing their shape as you're dipping them, put the baking sheet back in the fridge for 5–10 minutes and then try again.

If you have leftover chocolate, drizzle it over the eggs to create a pattern, reheating if necessary.  

If desired, lightly sprinkle each with coarse sea salt or festive sprinkles while chocolate is still wet.

Refrigerate coated candies for 30 minutes or until chocolate has completely set before serving.

To store, layer peanut butter eggs between sheets of parchment or grease-proof paper and store in an airtight container in the refrigerator for up to 2 weeks. The filling can get a little soft at room temperature, so the eggs taste best right out of the refrigerator or even the freezer.