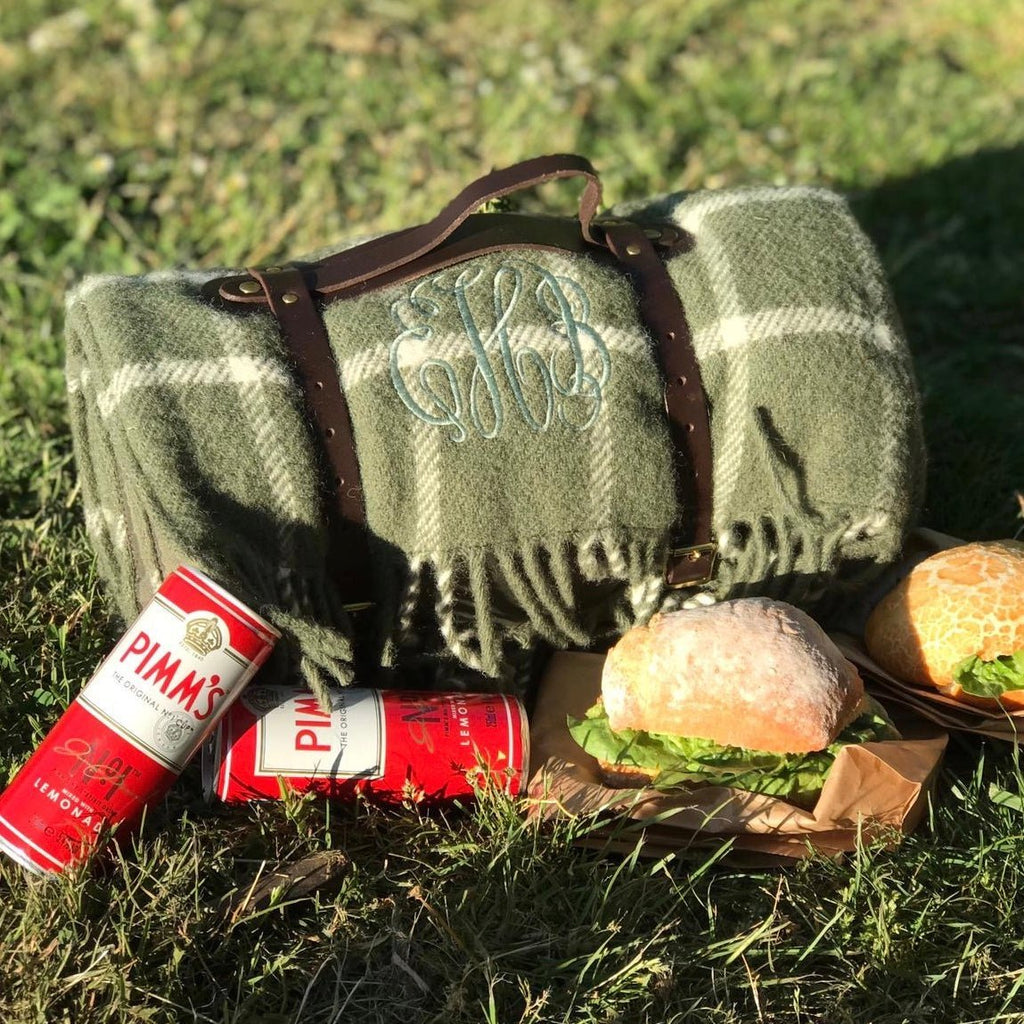 It's not easy to buy gifts for men but there are some big gifting occasions coming up in June: Father's Day is Sunday 21 June and graduation season is about to be in full swing.  The best way to impress the man in your life, whether he's just starting out or quite well established, is to gift him something useful, practical and stylish that is designed and made just for him.
Our Top Picks for Monogrammed Gifts for Men 
1.  Linen Handkerchiefs - £25 for set of 2
Made of 100% Irish linen with a traditional cording and rolled edges. These are the creme-de-la-creme of handkerchiefs. We love traditional font styles and thread colours for the monogram but eclectic fonts and colours, logos, crests or other motifs are also fantastic.
For a watch fanatic, this leather watch case is a perfect gift.  It holds up to three watches on a velvet cushion insert so it's perfect for storing the Garmin, the casual watch and a dress watch for evening while travelling, or to pop in the gym bag or just for display on the bedroom dresser.
Even in a video-conference world where trousers are optional, having a smart necktie to hand is never a bad idea.  Our compact necktie roll holds one tie, rolled neatly in a coil, so it unrolls unwrinkled and ready to impress.  It's a great grooms' gift or a useful piece of kit for a graduate starting a first job.
4.  Walton Duffle - £100 /  Wash Bag - £45
This stylish and lightweight canvas duffle is perfect for weekends away.  It has a matching wash bag to make a great set.  
The delightful weather predicted for the summer ensures that a monogrammed picnic rug will be a well-used gift.  Ours is 100% British wool with a waterproof backing and leather handles that keep it rolled neatly for storage in the coat cupboard or car boot.  We love to see a big single initial, a traditional monogram font or even a surname embroidered on the rug.
6.  Linen Drink Coasters - £50 for 4
A classic gift for any gentleman is a set of four monogrammed linen drink coasters for his card table, office desk, bedside table or sitting room.  Equally useful for cocktails or tea mugs.
The perfect gift for a fitness addict.  Our machine-washable monogrammed yoga mats are second to none… grippy, cushiony and personalised so nobody shares your mat.  We love a great monogram but we can also embroider logos, mantras and motifs.  
8.  Beer £35  / Wine Caddies - £40
Perfect for all the outdoor gatherings we're going to be attending this summer… our Camden Beer Caddy holds four bottles of beer or cider securely while you walk, cycle or drive.  The Wiltshire Wine Caddy has four compartments for wine and a central compartment for glasses, snacks, ice or other gear.  Either or both make fantastic gifts with a single initial monogram or something more elaborate.
A full set of bar tools in a monogrammed travel case makes the perfect gift. The case is microfibre, like a sports bag, so it is lightweight and wipes clean easily.  Just add gin.  
Quite simply, every boy and man needs a monogrammed baseball cap in the summer sun.  Ours is heavyweight cotton twill and one or two initials embroidered on the front makes just the right statement.