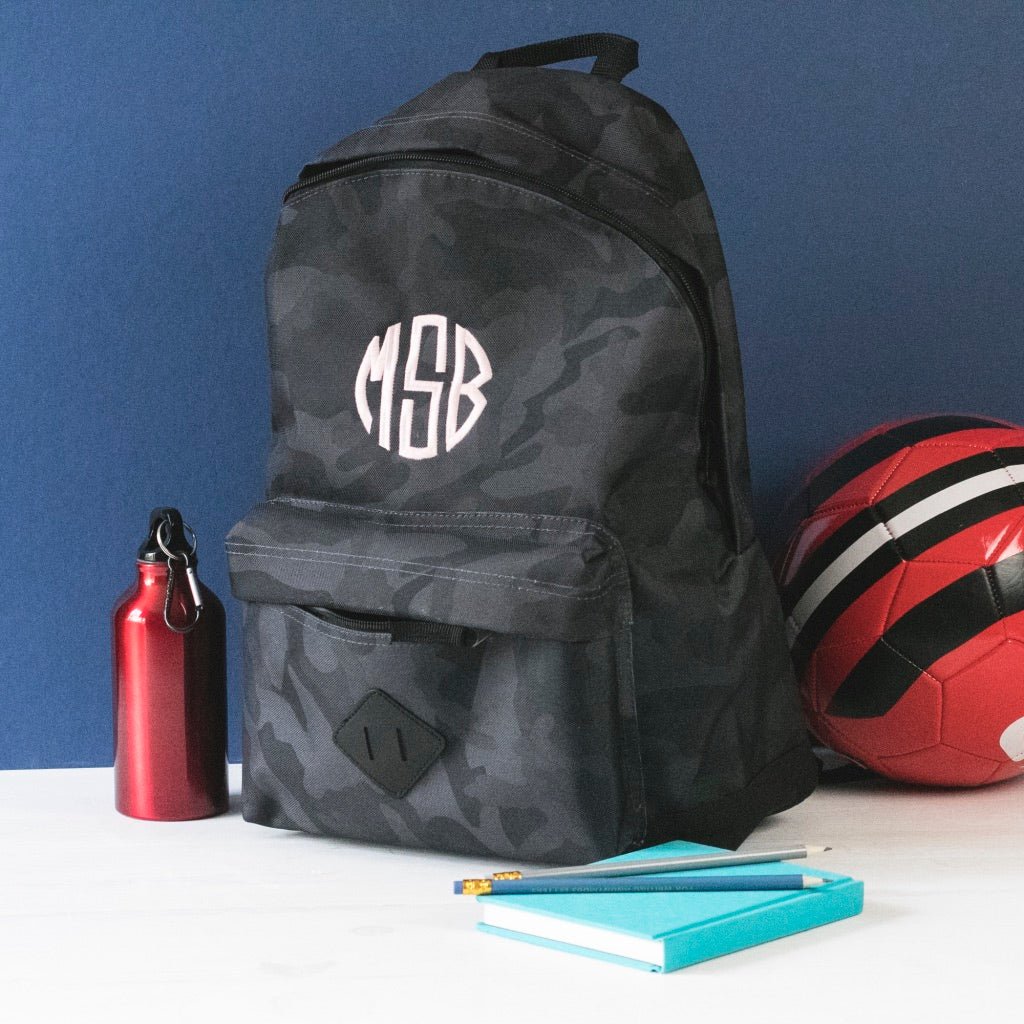 Make going back to school a little more fun by letting your student design their own school bag.  
Our website's monogram design tool is so much fun because it let's you be the designer:  choose your bag style, select a colour for the bag, then design your monogram from over 50 font styles and thread colours.  Preview your design and then change it as much as you like until you've got a design that perfectly reflects your personal style.  Are you sporty?  Art Deco mad?  Into Harry Potter?  Got a passion for pink?  You'll find a font style or monogram design that fits you perfectly.  
If you know someone that's heading back to school, why not give them a Gift Voucher that they can use to design their own bag?  Our e-vouchers can be ordered on our website and then used as a promotion code at checkout... thoughtful gift giving couldn't be easier.
Here are some of our most popular Back-to-School bags and accessories, perfect for students of all ages from starting nursery, heading to boarding school or finishing a PhD.
Early Years Essentials
Would you really send your little one off to school without a monogrammed backpack?  Hopefully not.  Our Junior Oxford Backpack is proportioned for 3-8 year olds, or primary school students.  Our standard Oxford Backpack is better for secondary school and our Uni Oxford Backpack is the largest and has a separate padded section for your laptop.
Our insulated Lunch Box is perfectly proportioned for snacks or a packed lunch.  It keeps food and drink cool and has an external pocket for coins, cutlery or other bits.   Once it's monogrammed, you can be sure no one is going to eat your lunch.
There are pencil cases and there is a pencil case you design yourself with your own personal logo.  Write out your name, create a monogram with your initials, use a hashtag or favourite phrase... make it totally personal.  Our Stripey Pencil Case comes in pink, grey and navy.
This mini version of our classic Chelsea Duffle is perfect for taking to school with a change of clothes or taking on a trip as a carryon bag.  The bigger size is a great gym or overnight bag.
Keep muddy football boots safely stowed away in a monogrammed boot bag.
Senior School Essentials
A padded and zipped case with an outside pocket for charging cables, notebooks, a newspaper, your monogram... rather essential.   
 The largest version of our Oxford Backpacks, featuring a separate padded compartment for your laptop.
A monogrammed yoga mat is a great gift for a student and useful for so much more than just yoga:  pilates, stretching, under a sleeping bag...
Absolutely perfect for transporting and storing bedding.
Our classic vintage canvas duffle, light as a feather but strong and sturdy enough for big loads.
 Whether for school dress or formal wear, a stylish garment bag is an incredibly useful piece of luggage.  Pair with a matching Fleet Wash Bag and a Barnes Tote and you'll be ready for a weekend away.
This is a microfibre version of our classic boat tote, with a cool Camo print.  The large size makes a great weekend lugging bag, the small size is a perfect book bag.  We love neon thread colours for the monogram with this bag, or even metallic gold thread.  
Our classic heavyweight canvas bag is a great book bag because it has a zip closure and a handy front pocket for your phone.  It comes in a range of great colours and it wears any monogram well.