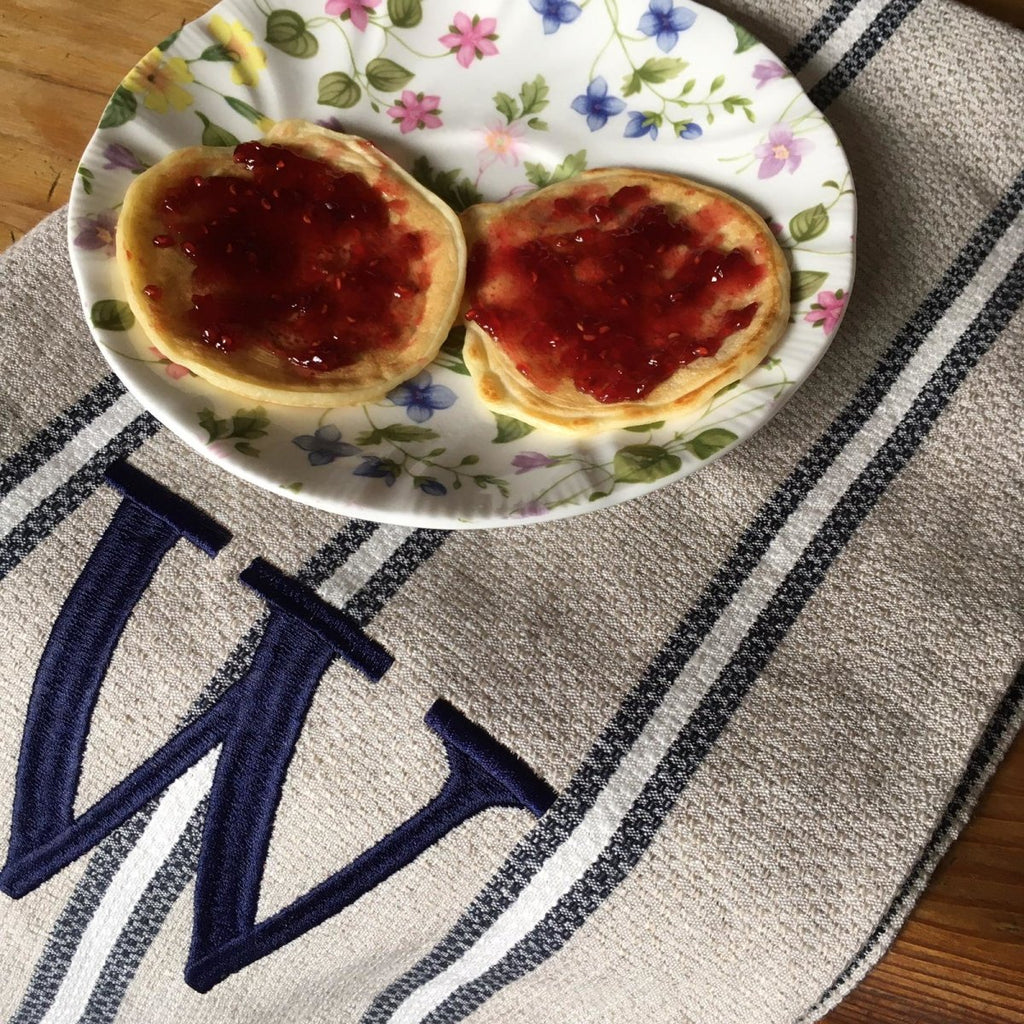 As a result of the warm weather lately and the continuing popularity of table laying, we've been monogramming quite a lot of napkins lately. Linen napkins on a beautifully laid table, inside or out, is a luxurious but practical touch.  We offer linen napkins rather than cotton for so many reasons:  their durability, their suitability for embroidery and of course the sustainability credentials of linen are far superior to cotton.  
I've asked Holly, one of our studio managers, to guest blog on the topic of linen.

 

When she's not working in our studio, Holly is an incredibly talented print designer and textile artist.

 

To see her work in action, check out her Instagram and Etsy accounts @hollywoodmantextiles or her website Hollywoodmantextiles.weebly.com.

 
Why Linen?
Here's Holly explaining why linen is her favourite fabric to work with:

 
"Linen, together with wool, is one of the oldest fibres used by humans. It comes from the flax plant which has been used since around 30,000 B.C.

 

For thousands of years, flax was cultivated and woven in to ropes and fabrics for everyday use.
Today flax is grown worldwide, however we source ours mainly from European countries including Lithuania and Turkey. 
When flax is woven in to linen it becomes a hard wearing natural fabric known for its strength, which is twice as strong as cotton. Once you've tried our thick and thirsty 100% natural linen tea towels, you will never go back to thin cotton.
Beyond the practicalities of strength and durability, we love how sustainable linen is. The flax plant is used for many different purposes and even the seeds are used in food production, both in whole form and as oil, so hardly any of the plant is wasted. It is also a plant which can grow easily in poor soil, usually with only natural rainfall and without fertiliser and pesticides. The fabric is biodegradable, but when cared for properly it can last for decades.
Linen is the ideal fabric for kitchen and table linens because it can be washed as often as needed and often the hand feel gets even more lovely with every wash. 
Whether you like a naturally creased lightweight linen, or a sturdy linen which can be ironed with starch to be perfectly crisp, we have many napkin options to suit your style.

   
There is something quite lovely about working with a fabric with such a long and rich history. Knowing that many many centuries ago people were using linens much the same as we are now, although perhaps not with embroidered monograms on them, makes us rather proud. We are delighted to continue the use of this incredible resource and we hope you love to use linen too."