Bespoke Portrait Napkins
CLD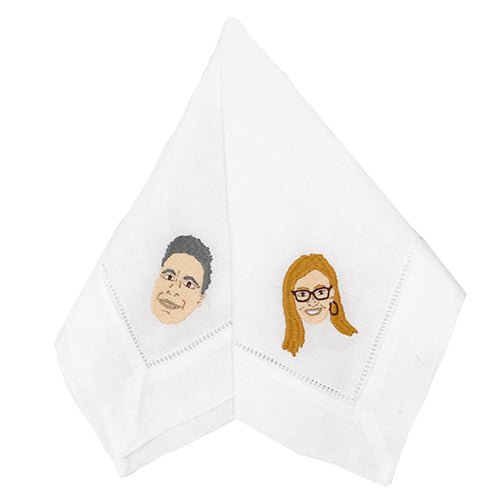 DESCRIPTION
Celebrate the VIP in your life with embroidered portrait napkins. Provide us with a good quality jpeg and we will convert it to embroidery. 

Bespoke portrait napkins make a fun and unique gift for any VIP... to celebrate a big birthday or anniversary, to remember a beloved pet, to congratulate a newly married couple, even a house or animal portrait translates beautifully to embroidery. 
Embroidered by default on 100% linen hemstitch napkins, please let us know if you would prefer your design sewn on any of our other napkins.
Made to order in our London-based studio. Our graphic designers and embroidery artisans will work closely with you to ensure the likeness is accurate. Very fine details will need to be removed to ensure design sews well so a simple headshot works best for portraits.  
The lead-time for these napkins is approximately 10 days. 
If you would like more than 4 napkins please get in touch for prices as quantity discounts apply.
Dimensions: Choose from 50 x 50cm dinner napkins or 15cm x 15cm cocktail squares. 
Composition: 100% linen hemstitch napkins
Care: Treat stains with Vanish and wash at 40 degrees. Tumble dry on delicate cycle or line dry to minimise shrinking.  Iron with starch to restore just-bought crispness.

Item added to your cart