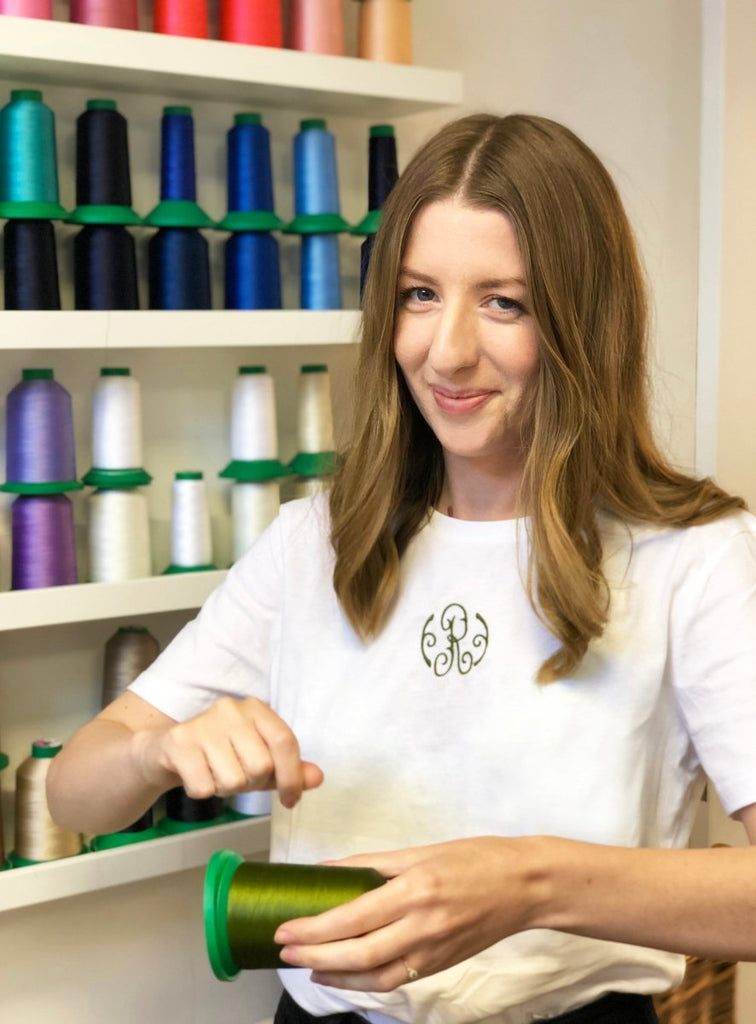 With our customers amazing support, our busy studio has returned to its disco music playing, tea and biscuit filled old self! In preparation for our busy Christmas season, we've also been expanding our team. We wanted to introduce everyone to you, and what better way than while showing off our fab new product - monogrammed tees! Read about why our wonderful team of women chose our own specific monograms and learn a little bit about what we do...
.
First we have our incredibly talented team of embroiderers who work meticulously to design and create your beautiful product
s. 
Beth here chose this colourful Brush Script for her tee 
'it's a great alternative to my regular go-to font 'Shadow'. I love that you can combine two colours in one monogram and pink and red is my ultimate favourite.'
.
.
Here is Rosie, also part of the wonderful embroidery team. 'I chose Serif 2 in Olive, my favourite tone of green. I like the symmetry of this font, the sizing is very even and balanced with serifs, it's definitely a classic!'
.
.
We have recently welcomed lovely Yosana to the Initially London embroidery team. 'I chose Sidelines font because I wanted a monogram that captured a gentle still movement. The fonts' linear structure with curved edged and the highlighting lines on some area of the monogram captures the movement os a paused graphic. The colour combination of mint and soft orange were carefully select to create colour harmony against the black t-shirt. Allowing the monogram to become an element of the T-shirt rather than an accessory' 
.
.
Ava here works on everything social; styling products, finding great press opportunities, photographing and making everything look beautiful! Here Ava is in her classic tee design 'Timeless and classic, I like a simple serif monogram in black and white that looks elegant and can work on anything.'
.
.
Here is Holly! Rebekah and Holly work on the admin side of the company, talking with our lovely customers and organising the studio. Holly works on our website, styling and photography. 'I chose the Shadow font because I love colour, and there was no way I could only pick just one! I love the way you can choose contrasting colours that really pop, especially against the black tee. I'm usually wearing pattern so the fun Shadow font is a perfect statement monogram for me.'
.
.
Here is Rebekah, managing our studio, working on exciting projects with new clients and sourcing fab new products! 'Classic, curly monograms (which usually have space for three letters) are my absolute favourite - I have four initials so the 'Lindsay' font was a perfect way to achieve the look I wanted using just one letter whilst the olive green thread adds a lovely warm, earthy feel.'
.
.
Finally we have our founder, Jane. Jane is a monogramming enthusiast who bought the idea over from the US in 2015 and has since built up the brand and team here in London! 'I chose intertwined because it's a classic monogram font. I've been using it since I was young and, like a well designed logo, it never goes out of style.'
.