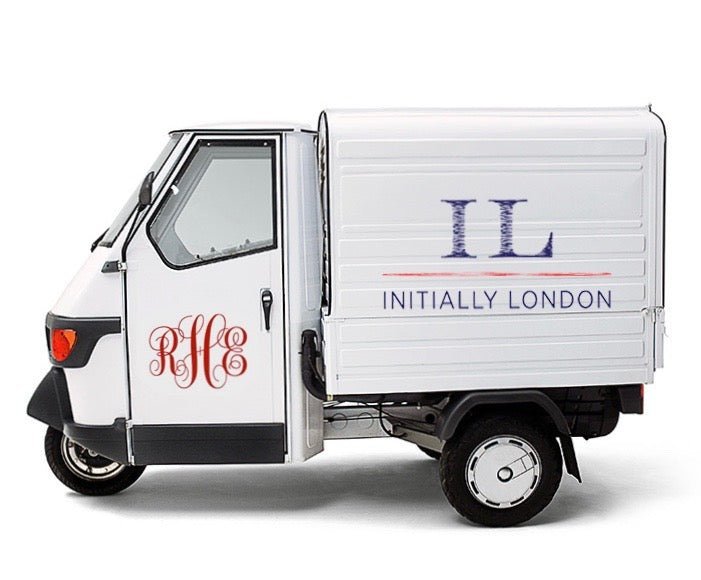 We've just launched a
Crowdfunding
initiative to fund the purchase of an Initially London tuktuk!  Let us make our case for why you should be involved.
We have a big London client base including trade clients such as event planners, interior designers and other retailers.  The ability to turn around orders for all our London clients and deliver them quickly is crucial and we use a hodge podge of couriers to do so at the moment including motorbikes (for small items), vans, private car couriers and Ubers. 
With more people shopping online and asking for home delivery than ever, I'm beginning to worry about the number of courier vans on the streets of London. They are already causing congestion by double parking on busy streets and this is going to get worse as the Christmas shopping season approaches. So as a means of taking deliveries in-house, the tuktuk idea came to life.  And the more we thought about it in the studio, the more sense it made.
This little 3 wheel motorbike with a van on its back will be branded and will tootle all over London delivering orders and serving as a mobile billboard in key neighbourhoods. It will save massively on emissions and petrol, as this cutie gets 80mpg!  
A tuktuk is tiny and nimble and will be able to navigate even the narrowest streets without blocking traffic.  So much more sensible than adding to the DPD, DHL and white van congestion on the streets of London.  
Packaging will be substantially reduced too, relieving the strain on overflowing recycling bins in London.  We can pack our deliveries in white shopping bags rather than big brown boxes and tape.  
So I'm sure you're wondering why Crowdfund rather than just finance it?
Crowdfunding is an increasingly popular way for small businesses to raise funds for, as well as awareness of, their businesses.  In addition, the Mayor of London has a match-funding programme in place whereby up to £5000 raised can be matched with grant funding, which makes it even more compelling.  
The most effective Crowdfunding campaigns have buy-in from people who know the business. If you're here on our blog, you must know us at least a little bit.  Please can we appeal to you to make a small contribution to the campaign?  
The small donations (£10 and £25) are structured as raffle tickets:  a chance to win some gorgeous bath or table linens.  There are some great one-of-a-kind rewards for larger donations too.
Here's a link to the crowdfunding site so you can read more about it:
Thank you in advance for helping us reach our goal!