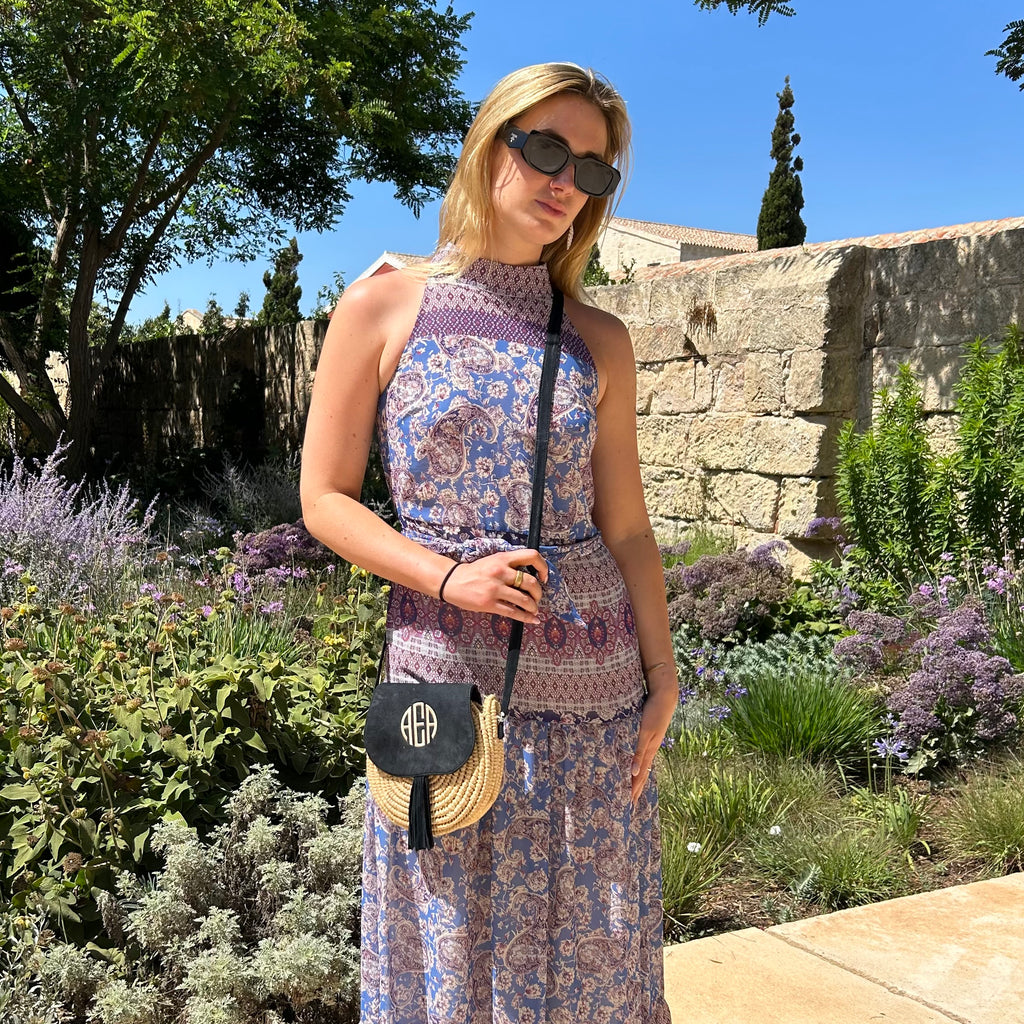 Hitting the Beach?
With one more long weekend of the summer ahead of us, and hopefully a warm September too, it's high season for monogrammed beach bags, towels and sunhats.
Here are a few our favourite beach-ready picks. Each one makes a useful addition to your summer wardrobe, but they're also thoughtful (and easy to pack) gifts for your hosts or guests.
Have some fun with the monogramming design tool on our website. Lately we've embroidered maps of the holiday location, yacht names, cute phrases and, of course, lots and lots of monograms. 
 Beach & Pool Towels
Our thick and thirsty terrycloth Faro Beach Towels have a soft velour finish.  They are generously sized and come in four bright striped colours:  orange, navy blue, teal green and mustard yellow.  
Our Turkish Hammam Towel is a lighter-weight cotton towel that is easy to pack in your suitcase and your beach bag. Beyond the obvious uses, a can also be used as a sarong, a light wrap on a cool evening, a picnic blanket or tablecloth... it's the handiest piece to have on holiday.
Small Bags
Our clear vinyl Lambeth Pouch has been a best-seller this summer for so many reasons.  It can keep your phone, sunglasses and keys sand- and splash-free while at the beach or pool; or store your travel documents where they can be easily scanned at the airport; or pack it with your charger cables and adaptors when travelling abroad. 
The Lambeth Pouch comes in a range of pretty colours in case you find you need more than one!
We've launched a brand new white version of our best-selling St James Wash Bag this summer.  It's a fresh take on an old classic and perfect for summer holidays, weddings or a lovely accent in a white bathroom. 
Our waterproof and washable raffia Salcombe Wash Bag is a popular option for the beach because it is sized to carry suncreams and lotions, and can be rinsed off easily at the end of the holiday.  
Tote Bags and Handbags
Our classic heavyweight canvas Maine Boat Tote comes in to own for the summer.  The zippered closure at the top makes it a great carry-on bag for flying, and it can carry all the heavy loads to the pool, beach or boat!  We love to see all the ways you personalise these bags.
We offer the small version of this bag in bright summer colours like yellow, hot pink, purple and orange. 
Our new handmade 100% cotton Carlyle Crochet Bag has turned out to be a fantastic summer bag. We love its all-natural credentials... no plastic, so metal fixings, just cotton. It carries heavy loads while sitting comfortably on your shoulder.  And it's machine washable in case it picks up stains on your travels. 
Our rattan and  suede Cheyne Cross Body Bag is a stylish way to travel light... pack your phone, lipstick, keys and a bit of cash in this lightweight bag and you're ready for a day of sightseeing or exploring. 
And finally, our favourite lightweight and packable tote bag... the Dalston. This pretty cotton gingham handbag is handmade in Mexico. It can be folded flat for packing and then stuffed full of market finds while out shopping. We love the detail in the plaited handles.