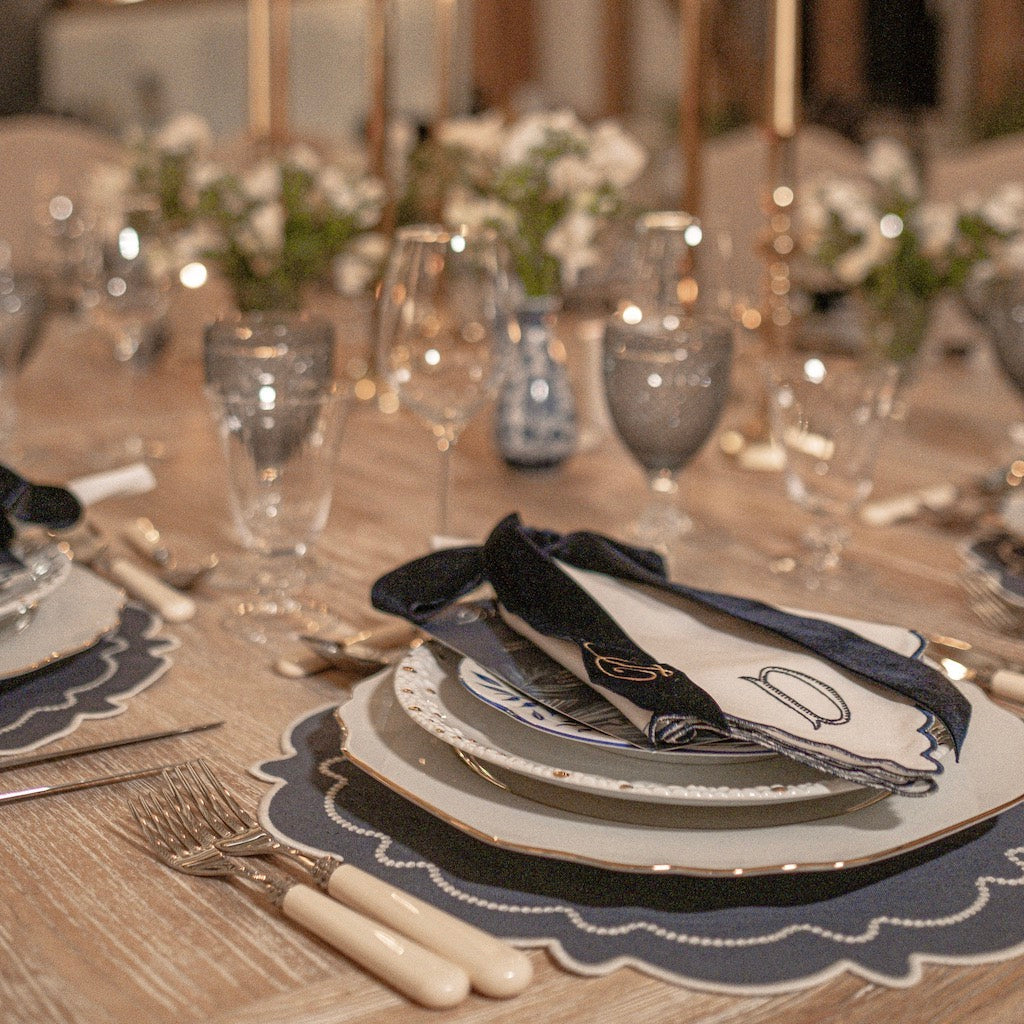 Party Season
We love October for so many reasons... the autumn colours, the wardrobe changes, the slower pace as the days grow shorter.  But mainly because it's the start of a long season of festive celebrations.
Over the next three months there's one good reason after another to throw a party. And there's nothing like a festive celebration for laying a beautiful table with monogrammed linen napkins. 
Festive Monogrammed Napkins
As a general rule, for the perfect napkin to suit the occasion, you need to consider three things:
 - The napkin style and colour 
 - The thread colour for the embroidery
 - The font style or imagery 
Have a look at a few ideas for some of the upcoming holidays...
Halloween on Tuesday 31st October
Guy Fawkes on Sunday 5 November
Black linen napkins come in to their own for these nighttime celebrations. Try one of our neon thread colours for the embroidery or our fun new Glow In the Dark thread (email to enquire). 
For font style options with a spooky theme, we suggest Potter or Old English. 
We also have a range of fun Halloween and fireworks embroidery motifs, let your imagination run wild. 
Diwali on Sunday 12 November
Celebrate the Hindu festival of lights with napkins embroidered with metallic gold or silver thread that will catch the light and add extra sparkle to the table.
Thanksgiving on Thursday 23rd November
For the American expats in the UK, Thanksgiving is a much-loved tradition that is hard to ignore.  For those still harbouring a grudge over the Puritan's departure to the New World in 1620, call it a Harvest Festival celebration instead. 
We recommend natural linen napkins with monograms in earthy tones, or classic white linen hemstitch napkins with a fun motif.
Hanukkah from 7th - 15th December
Delight your dinner guests with colourfully monogrammed napkins that double as place cards. The blue, gold and silver colours that mark the season can also be incorporated in the linens. 
Embroidering napkins with family crests makes an heirloom that can be used at family celebrations for years to come. 
Christmas on Monday 25th December
All the reds, greens and golds come out for Christmas. Whether your celebration is casual or formal, monogrammed napkins add a personal touch to all the other seasonal decorations on the table. 
We are delighted to monogram your own napkins if you've found the perfect colour or pattern for your holiday table.
Monogrammed napkins make lovely gifts. Please do plan ahead if you can, we get very busy as the end of the year approaches.
New Year's Eve on Sunday 31st December
Whether it's a formal dinner or an informal cocktail party, embroidered napkins will be a talking point.
And you don't need to limit yourself to napkins... we love a fun theme and can help source just the right personalised touch.
If 
you're serving canapés instead of a sit-down dinner, we recommend cocktail napkins instead of a standard dinner napkin.
These linen squares are a stylish way to keep fingers clean while nibbling and sipping. They can also be used as coasters to protect your furniture from wet rings and red wine stains.