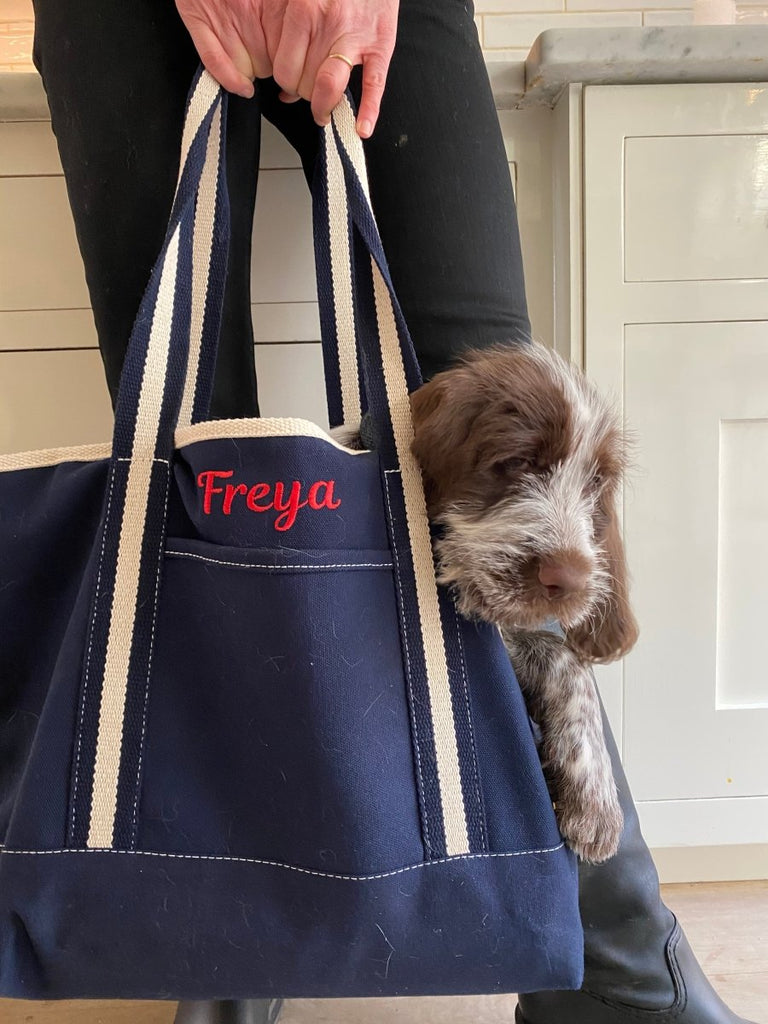 Britain has always been a nation of animal lovers but lockdown has taken our pet obsession to a new level.  If you're stuck at home (or even out an about), there's no better companion than a cuddly cat or a loyal dog.  
We're finding that gifts for new puppies have become as popular as new baby gifts so we've added a couple of new things to our Gifts for Pets edit.  As always, we try to avoid trends and fads by sticking with classic, timeless and practical items that wear an embroidered or etched monogram well.  
For the monogram design, the easy choice is the pet's name written out in a fun font style.  But feel free to use one of our monogram shapes if the pet has two or three names that you want to turn into a initial design.  Or use your own monogram... the rule with monogramming is:  there are no rules.  You're the designer and you can choose whatever style suits best.
So here are our top picks for Gifts for Pets:
Our 100% tweed wool dog bandanas are the perfect gift for your favourite dog. Pair it with its matching tweed Haslemere Bag (to carry treats, poo bags, tissues etc) for a gorgeous set.
Our Perfect Pooch embroidered drink coasters are perfect for dog lovers of many varieties. Choose a set of 4 of a favourite breed, or a set of 6 of all breeds.  If you don't see what you're looking for, just ask... we are adding all the time!  

Our sweatshirt-material Match Blanket has so many uses, but we especially love it  as a dog blanket.  It's super soft and washes beautifully. You'll want one for the car and maybe the sofa too.

Made of heavy-weight boating canvas with a zip closure to keep contents secure, the classic monogrammed Maine Boat Tote is great for carrying or storing all the important bits:  lead ropes, harness, towel for muddy feet, brush, chews, ball tosser, toys, etc.  If you want something more weatherproof, try our camo Charlton Tote or our heavy-duty Waxed Canvas Tote.
Keep you and your dog hydrated when out on a stroll.  And keep single-use plastic bottles out of the picture.

Wherever you go, take your furry friend with you even when she is too young or tiny to walk. This is such a practical bag:  it's durable and lightweight canvas with an outside pocket which is perfect to store bags, treats and toys.  And it carries just like your favourite handbag.  The 'peek-a-boo' opening, collar clip and zipped top keep your pet safe, comfortable and happy!