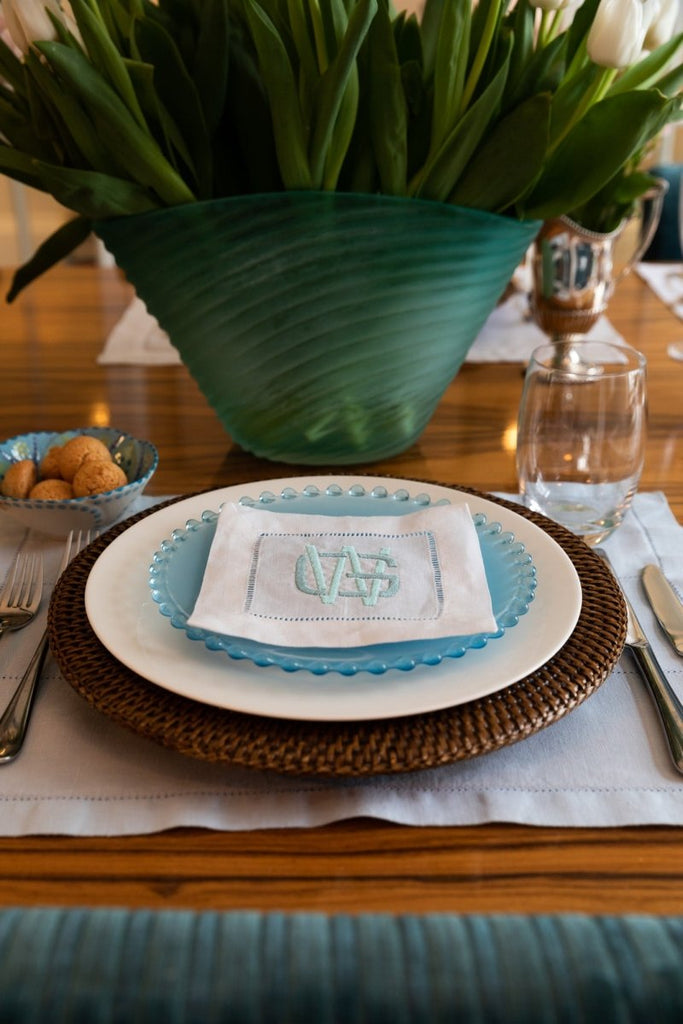 If you know anything about us by now, it's that we are obsessed with monogrammed table linen.  Formal dinner napkins, casual lunch napkins, cocktail napkins, drink coasters.... if it's linen, we'll put a monogram on it.  And, in our humble opinion, nothing makes a bigger impact on a beautifully laid table than classic linen napkins with an embroidered monogram. 
We will concede, however, that all the other bits on the table are important too.  We're often asked about our favourite shops for plates, chargers, cutlery, glassware, candlesticks, tablecloths and other tableware items.  So we thought we'd share some.  
The list is far longer than the ten we've shared here.  But these are the shops we stop in regularly, either in person or online, to pick up a little something that will make our next dinner table a bit more interesting.
Enjoy!  And let us know what you think.

Some of our favourite places to shop for crockery, candlesticks and everything lovely for the table
Summerill & Bishop
We love the little shop on Elizabeth Street SW1 but the bigger, original shop on Portland Road in W11 is on our radar too.  Gorgeous tablecloths, really beautiful pottery from British and European artisans, intricate glassware and quirky little pieces you weren't really looking for but have to buy.
The Edition 94
Visiting this shop on Fulham Road SW3 is like tiptoeing through Granny's house... so many pretty, precious, colourful things arranged on vintage pieces of furniture and shelves thumbtacked with fabric trim.  
David Mellor
This incredibly chic shop on Sloane Square SW3 has two floors:  the lower ground floor is an immaculate treasure trove for keen cooks and dinner party enthusiasts.  The ground floor has the most beautiful cutlery, knives and glassware we have found.  You can even take your own knives for sharpening.
Fiona Finds
Fiona's stunning showroom is open by appointment only so get a feel for her style by looking through her Instagram page (www.instagram.com/fionafindslondon) or her website before contacting her.  She has the most incredible eye for gorgeous tableware from around the world.  From practical placemats to parrot candlesticks (yes, I bought those) and anything in between, you will be astounded at the selection and the story behind each item.  
Designers Guild
Colourful, modern and yet still classic pieces are the specialty here, with a particularly good selection of serving pieces and vases.  The Kings Road showroom is like a warren, all ups and downs and around corners.  You're sure to find something pretty if you take every turn.
H&M Home
Oh my, the Regent Street headquarters is a sight to behold.  Affordable homeware displayed artfully and imaginatively throughout the stunning shop, ranging from plants and pots to everything you need for the table, bed, bath and beyond.  All beautifully made from mostly natural fibres:  linen, cotton, jute, rattan, etc.  You can easily pair any of H&M's offerings with your best family silver or your most luxurious monogrammed linens... our in-house stylist reckons it's like wearing a classic H&M t-shirt under your Armani jacket.  
https://www2.hm.com/en_gb/home.html
Thriftys Retro
If you're looking for something really unique, this is the place.  A silver plated octopus candle holder?  A gold monkey that holds a wine bottle??  A neon pink bust of David vase???  All here. 
https://www.thriftysretro.com/home-accessories
Pentreath & Hall
Colourful, unexpected and original homeware is what you'll find in this inspired shop in Bloomsbury.  The website is gorgeous too.
Conran Shop
We love the Brompton Cross Conran shop, not least because of the stunning Michelin Tire Company building that is its home.  The selection of simply elegant homewares is vast, including vintage monogrammed napkins that give us inspiration for modern designs.  Gorgeous candles and candlesticks, pitchers and jugs, wooden spoons and white crockery are the specialty here.
https://www.conranshop.co.uk/kitchen-and-dining.html
Sophie Conran Shop
For more traditional take on homewares, we absolutely love Sophie's website.  The offering is vast, covering all areas of the home, and the colours are soft and natural.  We particularly love her handpainted fake flowers... you'd never know they weren't real.
Happy Shopping!