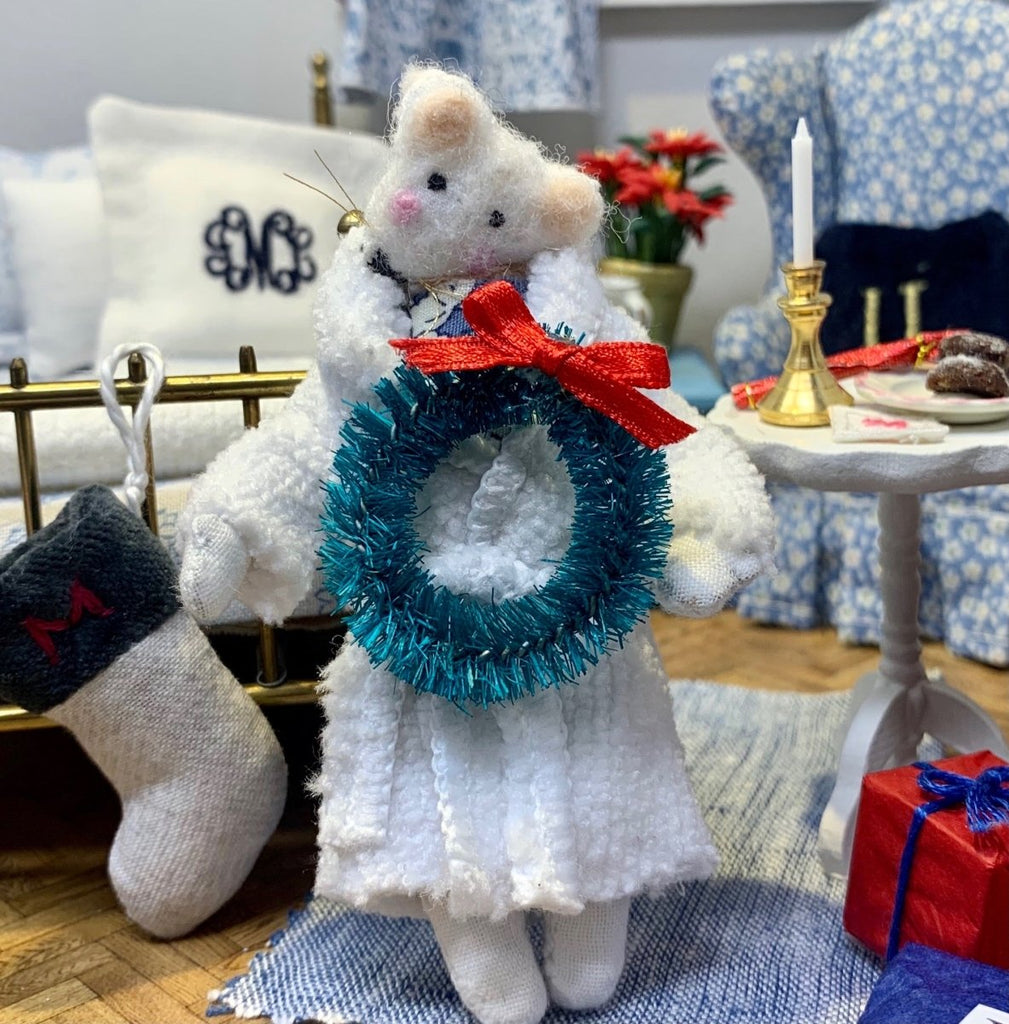 Have you seen our holiday video featuring Marzipan, The Mouse Who Loves Monograms?  It's adorable and all made in-house by the incredibly talented Initially London team.  Here's the story of how she came to life...
Throughout the feverish Christmas season (feverish for all the right reasons:  busy busy busy but quite well otherwise!) we talked often in the studio about the best way to show all the many monogrammed items that are fun and useful for the home.  From the bedroom to the bathroom, the kitchen to the sitting room, our vast product line includes gorgeous things for all these settings.
"If we could just shrink everything down to miniature size, then we could take a much better photograph of a whole room," said someone, musing aloud.  Beth, one of our crack embroiderers, was off and running with this idea.  Within minutes, without anybody noticing, she had recreated our monogrammed European Square Pillowcase in miniature.  It was 2cm square but had a perfect little monogram in Fancy font embroidered in the centre.  How we laughed!
Rosie, another one of our talented embroiderers with a passion for hand-embroidered miniatures, decided the pillow needed an owner and over a quiet weekend brought Marzipan, The Mouse Who Loves Monograms, to life in felt.  She's 9cm tall and has a shy little smile that makes you smile right back.
Marzipan now needed a house. A collection of vintage dollhouse furniture that belonged to my mother-in-law formed the basis of her bedroom:  an iron bed with real springs and an upholstered chair.  Beth contributed some pieces from her own childhood doll house and started constructing a film set house that we could photograph from above.
Holly, our resident textile designer, contributed original fabric designs that were digitally printed to create curtains and bedspreads.  As several weekends passed, Beth would quietly work away on miniature versions of a wide range of our monogrammed product line:  a velvet cushion for her chair, a monogrammed linen coaster for drinks, a laundry bag, a Christmas stocking to hang on her bed, even a tiny St James Wash Bag.  All wearing Marzipan's monogrammed.  Nothing but the best for this little mouse.  Rebekah even baked her tiny chocolate biscuits to go with a tiny mug of tea.
Once all was set up in Marzipan's Hollywood-style film set house, the real fun began. While Yosana soldiered on with the full-size Christmas orders in the studio,  Ava, Holly and Beth spent a morning meticulously creating a stop-action film, moving Marzipan through her bedtime ritual on Christmas Eve centimetre by centimetre and photographing each step.  
Dressed in her monogrammed Leighton Bath Robe, she tidies her room and takes her laundry bag to the washing machine.  She tucks a last gift, a monogrammed Hot Water Bottle, into a gift sack under the tree and then jumps on her chair, putting aside her monogrammed velvet cushion, to close her curtains.  She climbs in to her bed, admires her monogrammed Christmas Stocking hanging from the bedpost, and then switches off the light with the hope that it will be filled by Father Christmas in the night.  Did you hear the pitter patter of her footsteps?  Sound effects and an original soundtrack were contributed by Jake McCormack.  Pure magic.
Now that you've heard all about how the little film came about, have another watch now.  I hope you are as impressed with the Initially London team as I am.  There's just no stopping their creativity.
Happy New Year everyone!