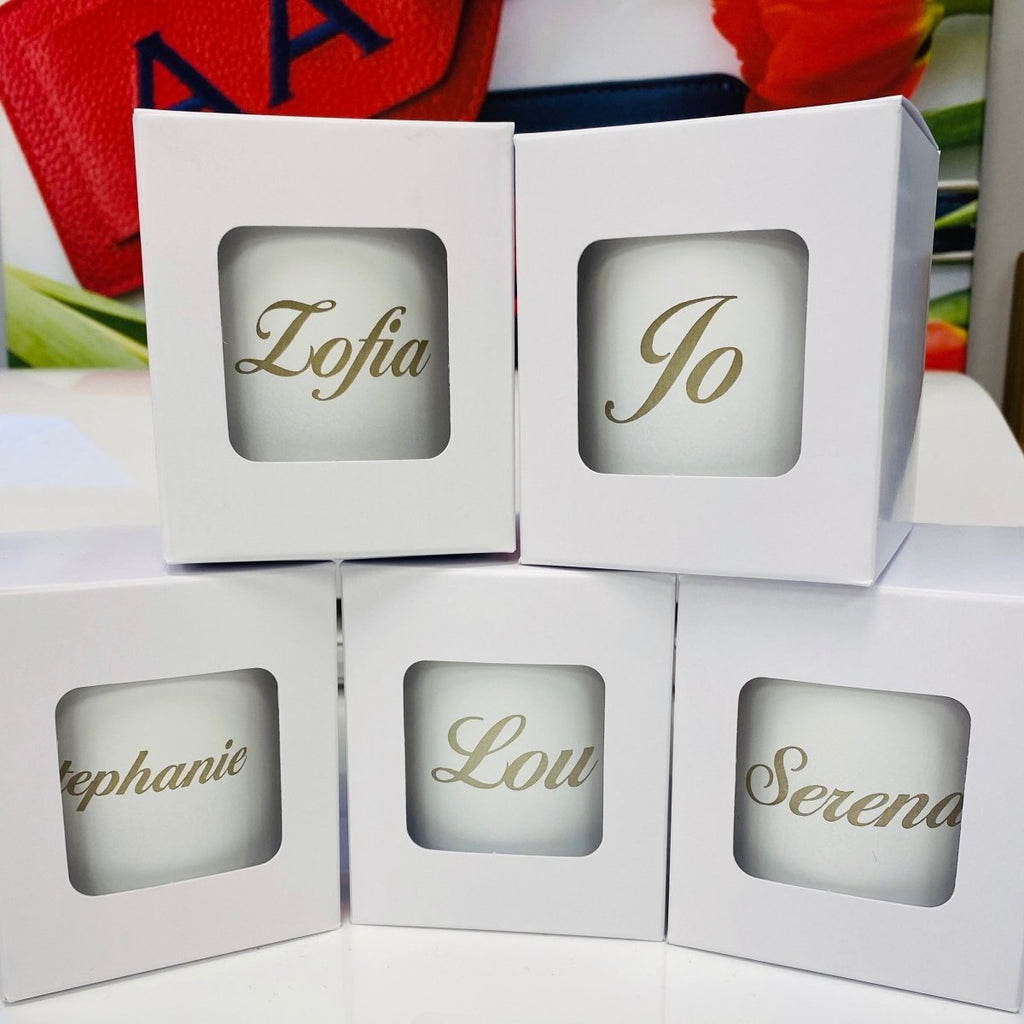 Presenting our top 10 best selling products in 2020:  The gifts you bought over and over again. And it's not hard to see why... each of these top sellers are accessibly priced, practical, useful gifts that are perfect for all almost ages and are gender-neutral too.  
Reusable Gift Bag - £2.50  
We don't have flashy packaging:  we're trying to minimise the massive amount of waste in online shipping by keeping our packaging minimal.  So what a delight to see that our reusable 100% linen gift bag, which is unbranded so it can be used again and again, was the most frequently purchased product in 2020.
The drawstring allows you to peek inside when you receive it to see how your monogram design has come to life.  And then easily close up the bag for gifting.
Etched Insulated Bottle - £25.00
These sleek stainless steel bottles remain as popular as ever because we laser-etch them with your monogram design.  They don't just look great: they replace countless plastic single-use bottles. We donate 20% of the sale proceeds to Greenpeace via our founder, Jane Wiest (as Greenpeace doesn't accept corporate donations) which makes us feel even better about the success of this bottle.
Om Yoga Mat - £45
Our monogrammed yoga mat is popular for so many reasons.  First and foremost, it's a really great mat.  It is 4.5mm thick and super grippy.  It has an inner textile layer for strength so ti will last for ages.  It is completely toxin-free and is safe for even young babies' skin.  We love that it is machine washable so you can keep it clean and disinfected.
Our monograms really make the mat sing.  We embroider the design so the stitches add a texture and sheen and will last for years without fading or peeling like printed designs.  In addition to monograms, we can embroider a logo or image or mantra.  No wonder this is one of our best-selling products.
St James Wash Bag - £27.50
A pretty monogrammed wash bag embroidered with a gorgeous monogram makes a perfect gift for all ages, from new baby to Nanna and everyone in between.  The St James comes in a range of colours that suits both boys and girls of all ages.
Hemstitch Napkin - from £17.50
Our classic hemstitch napkins come in both natural beige and crisp white.  They are generously sized at 50x50cm and are so much more beautiful and sustainable than disposable paper napkins. Monogrammed napkins don't have to be saved for special occasions.  If you put your family's initials on them, you can reuse them over several meals.
Islington Wash Bag - £27.50 
The Islington is a water-resistant version of our famous wash bags.  These bright chevrons wear our bold monograms well.  And they pair beautifully with our summer baskets and Turkish Towels... beach holiday essentials.
Face Mask - £15 or two for £22.50
 Needs must!  Dress up a practical black cotton mask with a great monogram.
Luggage Tags - £25
Make sure your cases don't get lost on the baggage carousel with our leather luggage tags.  Choose a neutral colour and add a pop of colour with a bright monogram, or start with a bright tag and add a colourful monogram that is sure to catch your eye.  
Maine Boat Tote - from £45
The classic American boat tote is a workhorse bag.  Bill Gates carries one everywhere, filled with books. Say no more!  We love it as an informal brief case, a school bag, a weekend carryall or overnight bag.  It is both indispensable and indestructible..  
Scented Candles- from £30
\
Inscribe our hand-poured soy candle with your monogram or a meaningful word or phrase.  We laser-etch the design on the glass vessel so that when the candle is fully burnt, you can re-use it with a votive candle or as a vase or pencil pot.
We specialise in monogrammed classic accessories, gorgeous linens and unique but practical gifts for all occasions.  We love when a gift is so well-received that another is ordered with a new monogram design.  Be sure to check out our Gift Edit tab when you have a gifting need.