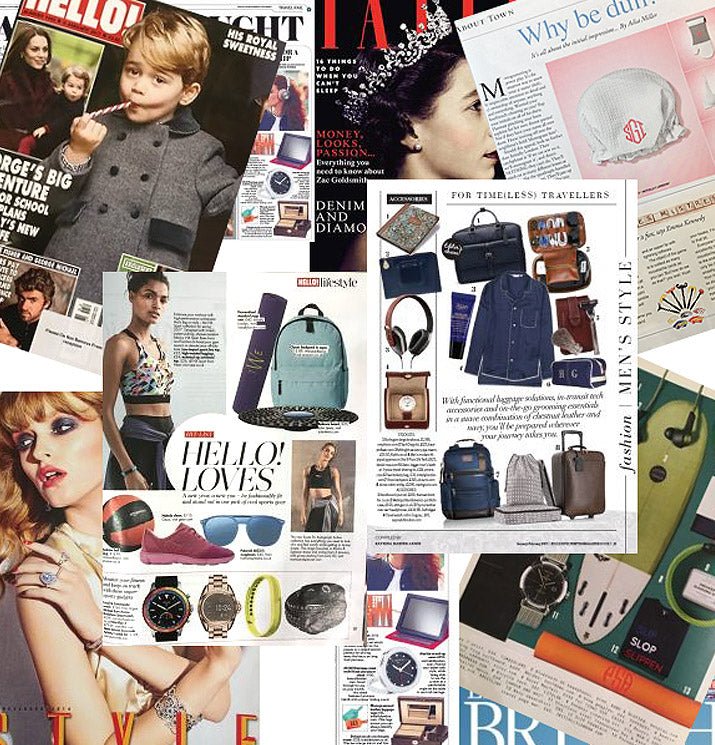 We love seeing Initially London's monogrammed bags and accessories in the press. Personalised gifts are incredibly popular and Initially London has the right combination of unique, well made, affordable yet fantastic. Have a look at what the press are saying about our monogrammed gifts.
Tatler (May 2016)
"Why Be Dull? It's all about the initial impressions." Tatler has a great eye for things that are definitely not dull, so we are thrilled with this little ode to all things personalised and monogrammed by Initially London. Your bra? Why not!
Sunday Times Magazine (November 2016)
"All I Want for Christmas..." The Editor's pick of gifts for men includes Initially London's monogrammed Travel Yoga Mat in bright orange with a neon orange monogram. This is our thin but sturdy mat that folds down to a flat square that fits neatly in your gym bag or suitcase.
Hello! Magazine (January 2017)
"A new year, a new you. Be fashionably fit and stand out in our pick of cool sports gear." Initially London's monogrammed yoga mat is flagged up by another great glossy, this time featuring our purple Standard Yoga Mat personalised with lime green embroidery.
The Daily Mail (December 2016)
This Christmas Gift Wish List features our monogrammed Fleet Wash Bag in recommendations for men. This bag comes in navy, black, brown and grey and looks fantastic with either a subtle or brightly coloured monogram.
Daily Mail (March 2017)
"Chic tags ensure you can always identify your luggage." Initially London's monogrammed leather luggage tags make great gifts for friends and family who like to travel. These tags come in vibrant colours which become even more eye-catching when embroidered with a colourful monogram. Your black bag will practically shout to you from the baggage carousel.
The Telegraph Online (December 2016)
"12 Brilliant, Gender-Neutral Gifts for Children This Christmas" features Initially London's monogrammed pyjamas for children. Our London Pyjamas are for any little person who loves the Big Smoke. Have a look at our Cowboy (Ummm, Cowperson?), Pirate, Butterfly and Ballerina Pyjamas too.
Exclusively British (February 2017)
"Gifts for Time(less) Travellers" features Initially London's Fleet Wash Bag. It is made of lightweight but durable canvas, has room for all the essentials and your initials are embroidered across the front. The Fleet Wash Bag really is a great travel accessory, even if you're not exclusively British.
Viva Magazine (December 2016)
This great Manchester-area magazine's "Ultimate Christmas Gift Guide for Him" features Initially London's monogrammed Eaton Duffle. This lightweight canvas bag, emblazoned with your name or initials, is lightweight, durable and can be stuffed quite full so it makes a perfect personalised weekend duffle.