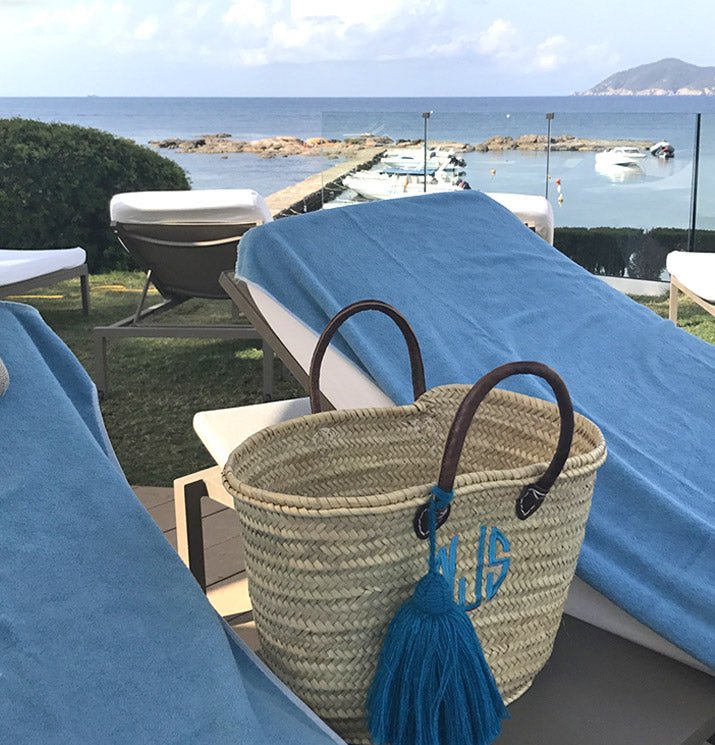 Monogrammed Travel Essentials
Why conform this summer? As you jet off to lounge on the beach for a well-deserved summer break, do so in style with some of our fantastic summer bags and accessories. A colourful monogram will add that touch of personalised, distinctive wow to your travel essentials.
The Straw Basket
Our range of straw baskets have been absolute best-sellers this season and for good reason. The Large Covent Garden Basket, shown at right above, will carry your beach towel, sun cream, cover-up and more from the villa to the shores and will catch attention on the way with a cool, bright monogram marking it out as your very own. Travelling light? No problem. You can opt for the medium-sized Covent Garden Basket (shown left above) which though smaller is no less stylish. Ban the plastic bags and head to the High Street or the harbour with one of these on your arm. You can liven up your basket with a Yarn Tassel or a PomPom Key Ring. Initially London are here to revamp the face of everyone's holiday packing list!
The Ibiza Clutch
Our Ibiza Clutch made its debut at the Chelsea Flower Show back in May however now it has been to Wimbledon, Royal Ascot and many summer holiday destinations around the Mediterranean. This clutch is just so versatile – you could take it straight from the poolside to a glam dinner. Be brave and opt for a summery pink or blue monogram in a funky Shadow font (as on the JG and LJB bags above), or take a more traditional route with Schoolbook font (as on the JW bag).
Turkish Towels
Mark your sun-bathing territory on the beach with one of our monogrammed Turkish Towels, which are light-weight and brightly coloured in lots of summery colours. But they are not just towels… wear it as a Sarong, a wrap on a chilly evening, or a scarf around your neck; or use it as an impromptu tablecloth, picnic blanket or lightweight bedcover. Best of all, the Turkish Towel will fit neatly in your suitcase without taking up much room at all. You might actually want two or three.
Luggage Tags
Don't put yourself through the agony of waiting in the Luggage Hall of Terminal 5 only to find that your bag is currently in the possession of some other traveller. We've all been there and quite frankly, never want to again. We have the solution: our colourful monogrammed luggage tags will make your black wheelie bag stand out and catch the eye of everyone waiting eagerly around the carousel, letting them know that your bag is yours.
Stuff for the kids…
Backpacks
The Oxford Backpack is the perfect carryon for kids, storing all the aeroplane essentials needed to keep little ones occupied during your flight and all those hours of downtime in the airport: books, cards, drawing pens, snacks, iPad, stuffed animal and more. Our Oxford Backpacks come in two sizes: Junior Oxford (for smaller children) and the standard Oxford Backpack for older children and teens. A great monogram will make sure there is no confusion amongst the kids as to whose bag is whose. Kids and young adults alike will love the wide range of colours which these bags come in as well as the unique personalised touch which will set them apart from the sea of EastPaks and JanSports…

Our Camo Backpack is a cool alternative too. Monogram in neon orange, pink or yellow to make your initials really stand out.
Washbags
You can never go wrong with one of our popular Initially London washbags. This summer we have welcomed in our new range of Rawlings Washbags; in super, whimsy summer colours adorned with a cute pompom on the zipper as well as being slightly larger – it is perfectly suited to hold not just cosmetics and toiletries, but also sun creams, gadget cords, and more. Our classic microfibres Islington Wash Bag is slightly smaller, wipes clean and perfect for sun creams, makeup or toiletries while travelling. Monogram it creatively to make a really unique bag. These make great gifts.