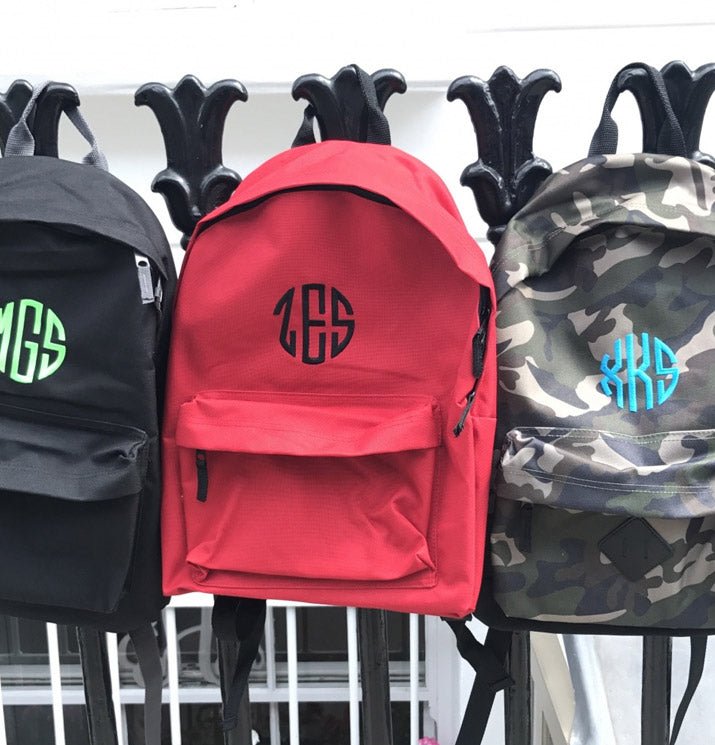 Monogrammed Back-to-School Gear
With the bank holiday weekend nearly over, it's the start of back-to-school season. Whether it's the first day of reception, senior school or university, mark the occasion with a really useful, personal gift for your favourite student. A fresh backpack, a stylish duffle bag, a fluffy robe or towel set, or an indestructible wash bag will all look great with a monogram. Even better, the monogram will help make sure belongings don't go astray.

At Initially London, we're all about making gift giving easy, affordable and personal. With that in mind, here is our list of recommendations for the perfect gift for students, all of which are priced at £50 and under:
Monogrammed Gifts for Primary School Students
1. Junior Oxford Backpack (£35)
There is no cuter sight than that of a four-year-old dressed in brand new school uniform, two sizes too large, on the first day of school. Celebrate this momentous step in the school adventure by gifting them our classic backpack scaled down for under 10's, embroidered with their initials or name. The perfect size for their reading books, their show-and-tell treasure, and anything else that absolutely has to come to school. This bag comes in a wide ran get of colours, from standard school navy and black, to red, pink, orange and purple. Monogrammed it with neon thread to really make an impact, or go for something more subtle. Either way, this bag is not going home with anyone else. The teacher will be impressed.
2. Monogrammed Lunch Box (£15)
Our insulated Monogrammed Lunch Box is a perfect square and is the right size for a sandwich, a juice box and an apple. It comes in a range of colours that match our Junior Oxford Backpack, including navy, hot pink, royal blue, orange, lime and yellow. Monogrammed with initials or a name in a font style that matches the personality of your little student.
3. Chelsea Duffle (£35)
This is the perfect size for a sleepover bag or for carrying sports gear. It comes in a nice selection of colours, from classic navy to baby pink and many in between, and pairs well with many of our wash bags.
4. Maine Tote bag (medium £40)
This is an American classic, made famous by LL Bean's version, and now available in the U.K. Our version, the Maine Tote, is made of heavy-weight canvas and has a zipper closure across the top. It's a great book bag, all-purpose tote bag, generally an all-around really useful bag. No load is to heavy for this bag, it is genuinely indestructible and will still be handy when this student goes off to university.
Perfect & Practical Gifts for Senior School
Whether it's the first day of a new school or just another new school year, start it with some monogrammed gear that won't get lost in the locker room or cloakroom.  We specialise in boarding school bags, bathrobes and towels that are not only stylish but practical as well.
1. Piccadilly Holdall
A classic navy canvas duffle that is perfect for sleepovers, weekend retreats or use as a gym bag. This looks great with a neon yellow monogrammed, or red for a classic British look. Lightweight, durable and very cool.
2. Islington or Pimlico Wash Bag
These are two of our most indestructible wash bags. Perfect for toiletries, first aid supplies, the gym or swim bag, shoe polish supplies and more.
3. Camo Backpack
An edgier version of our Oxford Backpack. Our Camo Backpack comes in Jungle Green and a new Black version. Both look fantastic with a neon monogram, though purists may want to stick with black, brown or grey.
4.  Hampstead Heath Boot Bag
Whether it's wellies, riding boots or just your everyday street boots, this bag makes storing them and keeping track of them much easier.  Monogram with initials or a full name in a great thread colour.
5. Kids Leighton Robe
Perfect for boarding school or school trips, the kids' version of our fluffy but lightweight Leighton Robe comes in white, light pink or light blue. Monogram it across the back or on the front shoulder.
Essential Kit for the College or Uni Student
1. Eaton Duffle
Our biggest duffle is made of lightweight but durable washed canvas and comes in 3 colours: tan, grey and navy. It's the perfect bag for lugging to and from school as it can be stuffed full and not be too heavy, and still fold flat for storage when empty.
2. Wellington Laundry Bag
Monogram this basic piece of kit to be sure there will be no laundry room mix-ups.
3. Cotswolds Wash Bag and Cosmetics Bags (£30 and £25)
A great set for toiletries and makeup. This makes a great gift for a student, as it's both personal and practical.
4. Fleet Wash Bag (£30)
This canvas wash bag is a perfect gift for a student. Pack with shaving essentials and other nice toiletries to make it a really special gift.
5. Monogrammed Towels – Melbury or Lido
A big thirsty Mlebury bath sheet, monogrammed with initials, is a great gift for someone striking out on their own. Add a hand towel or a matching Leighton Robe to make this a really indulgent gift.
6. Maine Tote (Large £50)
The perfect bag for lugging heavy books, clothes and shoes, dorm gear or anything else… no load is too heavy for this heavyweight canvas bag. It's an American classic for a reason. Pair with a matching medium sized Maine Tote to make a useful set… the medium size make s a great book bag or all-purpose tote. A Maine Pouch makes a matching pencil case.
7. Bond Street Jewellery Case (£25)
This white seersucker jewellery case is perfect for people on the go. It keeps all your favourite jewellery safe and looks lovely on the dresser or bedside table. A single letter monogram, or several initials, suits this case perfectly and makes it a very personal gift. Maybe tuck a pretty trinket inside to make it an even more special gift to mark the occasion of a new school adventure?