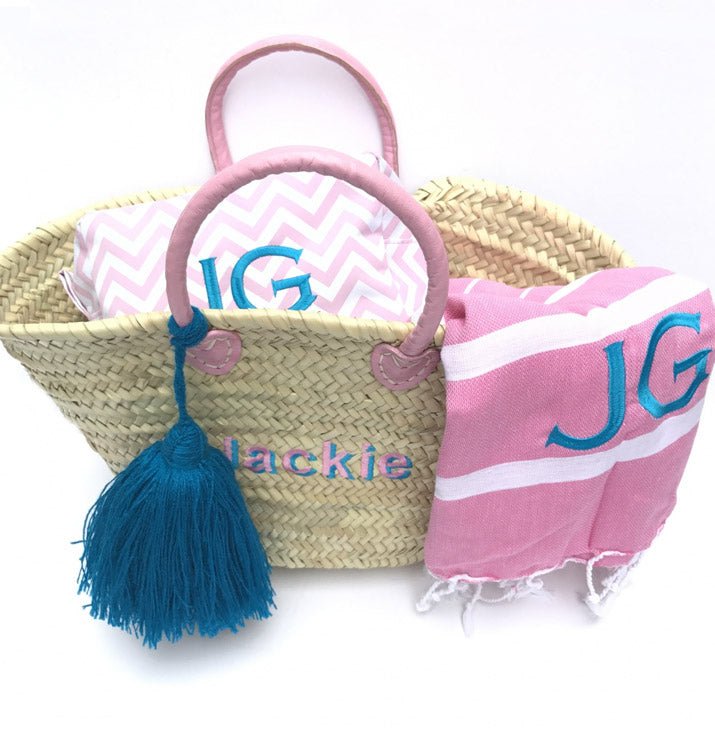 We're delighted to announce our top 10 best sellers. Your monogrammed favourites are listed here from number one down… bags and accessories that we never get tired of monogramming and you never get tired of receiving. They will all continue to be available on our website because they make great gifts for everyone on your list, season after season. But keep an eye out for some great new lines being added for Spring and Summer… one might become your new favourite.
1. St James Wash Bag
A classic monogrammed wash bag for anyone and everyone, made of crisp cotton seersucker in navy, red, pink or mint on the outside and a water-resistant lining on the inside. If it gets covered in foundation or the pen caps come undone, just treat the St James with stain remover and wash it on the delicate cycle to make it good as new.
2. Islington Wash Bag
The Islington is a microfibre wash bag that doesn't mind moisture and wipes clean when the cap comes off the toothpaste. It's perfect for your beach bag, swim bag, suitcase or just on your bathroom sink. The Islington Wash Bag comes in purple (shown here), hot pink, mint, orange, electric blue and grey.
3. Fleet Wash Bag
For the man who wants a stylish, lightweight dopp kit for school or travelling. The Fleet Wash Bag is made of canvas that comes in navy, black and grey. There is a matching Fleet Garment Bag too. If you're after a more subtle monogram, this bag looks great with embroidery in tone-on-tone colours or very small discrete monograms at the top of the bag. We, however, just love this big bold copperplate design.
4. Luggage Tags
Our soft, supple leather luggage tags have a pocket for a business card or other details. They make great gifts, stocking stuffers, party favours and even a nice treat for yourself. A brightly coloured monogrammed luggage tag will ensure your bag stands out on the luggage carousel. Luggage tags come in turquoise, purple, cobalt, orange, black and metallic gold.
5. Standard Yoga Mat
Your coveted spot in yoga class is secure with a monogrammed yoga mat. Embroider your initials, name, a favourite hashtag or a symbol or mantra to help you concentrate. Our yoga mats are manufactured in Germany to the highest European standards to ensure that they are toxin-free. And they're machine washable… ideal if you're a Bikram fan.
6. Covent Garden Market Basket
It's a shopping basket. It's a tote bag. It's a beach bag. It's a gift basket. It's basically the most wonderfully useful accessory you will own. Our Covent Garden Baskets, which come in two sizes (the smaller one shown here) are made by hand in Morocco from the leaf of the doum plant. Like everything else in our product line, our baskets are monogrammed with shimmery, textured embroidery that will never fade, crack or peel like the painted or appliqued versions sold by many companies. These lightweight baskets pack easily for travelling… just stuff them full of clothes and put them in your suitcase. If they ever need re-shaping, just mist the baskets with water and press back in to the desired shape.
7. Maine Boat Tote
We've said our baskets are the most useful accessory you will ever own, but our Maine Boat Tote is a contender for that title too. You surely have seen this classic American bag and wondered how you get hold of one in Britain. Well, here we are. Made from heavyweight boating canvas, these bags are strong enough to haul bricks if they need to but light enough to throw over your shoulder. They are made to last forever. Maine Boat Totes come in two sizes: the medium, shown here, makes a great gift for kids or new babies. The larger one is a great all-purpose family tote bag, casual briefcase, book bag, boarding school accessory. Monogram with a name, initials, a dog's name, house name, postcode.
8. Turkish Towels
This is our secret weapon for travel. The Turkish Towel is not just a towel, though it is incredibly useful for budget travelling, school trips or beach holidays where towels must be brought in a suitcase. It has too many other uses to list here but we'll make a start… wear it as a sarong over a swimsuit, as a wrap when the sun goes down, as a beach blanket on the sand, as a picnic blanket in the grass, as a tablecloth at a picnic, as a blanket on a plane or train, just to name a few. It is just an incredibly handy thing to have in your bag. With a big bold monogram, no one will mistake it for their own.
9. Ibiza Clutch with a PomPom Keyring
We simply adore this hand-woven straw clutch bag and evidently so do you. It's the perfect summer bag… large enough to fit plenty of lipstick, a purse, sunglasses, phone, keys to the Jag, etc. But small enough to toss in a tote bag. We love it with the shadow font monogram but we've got a number of other great font styles that work well too. And this monogram will never peel or crack! Design the monogram colours to match your favourite summer dress, to match some of our Turkish Towels, a favourite colour.
10. Eaton Duffle
The quintessential British weekend bag. Lightweight, washable canvas makes this practical as well as stylish. It folds flat and can be stuffed in the back of the cupboard or in the bottom of a drawer. You'll definitely want a classic monogram to make this bag your own.