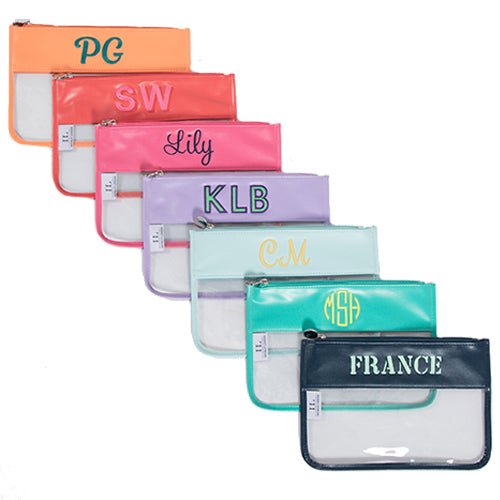 DESCRIPTION
It's clear that our new Lambeth Pouch will keep your bag organised.  Whether in your handbag, your beach bag or school bag, this clear pouch will keep everything inside secure but in sight. 
The Lambeth comes in an array of gorgeous colours which perfectly match our St James Wash Bags, Mini Bond Jewellery Cases, beach towels, straw baskets Etched Insulated Bottles and more.
We love a contrast monogram on these pouches. Here's what is monogrammed on the images:
Red Pouch - SW in Shadow font in Candy Floss pink and Red thread. 
Navy Pouch - HAWH in Copperplate font in Red thread. 
Lilac Pouch - KLB in Futura Border font in Navy and Neon Green thread. 
Pink Pouch - Lily in Sweetheart font in Navy thread. 
Composition:  Vegan leather and clear vinyl.
Dimensions: 26 x 18 x 2 cm. 
Care: Wipe clean only. 
Item added to your cart