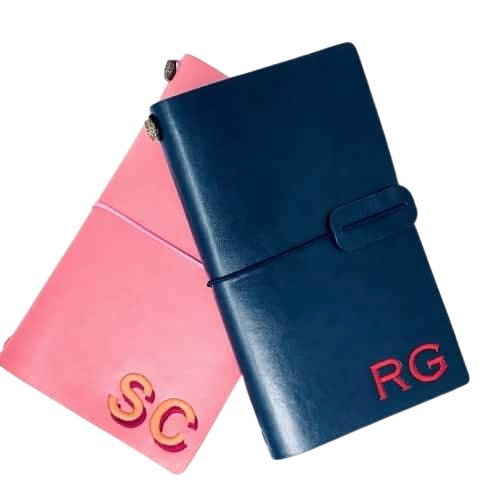 DESCRIPTION
Let us help you get organised with a monogrammed Marylebone Notebook.  It's the perfect size to carry in your handbag, backpack or briefcase... not too big, not too small. The Marylebone Notebook has a vegan leather cover that comes in Light Blue,Chestnut, Navy and Pink and has three removable inserts:  one with lined premium paper, one with dotted paper and a third with blank Kraft paper.  There is also a zipped storage pouch.  Each paper insert is held in place with an elasticated band which makes replacing them when they are full easy and convenient.  There is also an exterior elastic band to keep contents neat and secure.  
We put the monogram on the front cover so everyone knows that the ideas inside are yours and yours alone.  It's a stylish statement on an otherwise mundane piece of stationery.
Monograms Shown: The initials 'SC' is shown in our two colour Shadow font, with Red and Baby Pink thread colours. 'RG' is shown in Copperplate font in Red thread. 'Sophie' is shown in Sweetheart font in Metallic Gold thread and finally the single initial 'W' is in our pretty floral font Antique Rose in Cornflower Blue. 
Compositions: Vegan leather.
Dimensions: 12cm wide x 20cm tall x 2cm wide.  The notebook is compatible with most modular inserts but if you like the ones it comes with, please email us to order replacement inserts at hello@initiallylondon.com.
Item added to your cart