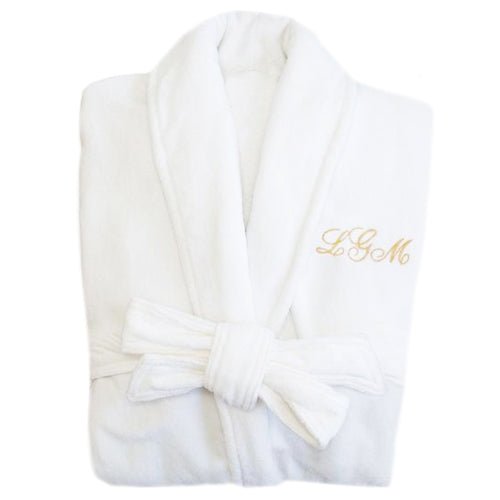 DESCRIPTION
This fluffy, lightweight thirsty terry towelling Leighton Robe will quickly become your favourite winter wrap. It is incredibly soft and lightweight despite its 450gsm cotton. The untwisted cotton yarn fluffs out nicely and dries quickly.  It is a joy to wear.
The Leighton Robe comes in either traditional White or a gorgeous grey-brown Taupe shade. A monogram on the front left chest is the most popular option but you can choose to place the monogram across the back for a slightly higher price.  for a small additional fee due to the additional sewing time a large design can take; please do get in contact if you would like to discuss this option.
Pair this luxurious robe with matching Leighton Towels for a really lovely gift.  The Leighton Robe also comes in children's sizes, see our Kids' Leighton Robe.
Monogram Shown: Firstly we have shown Ballentines in Golden thread, followed by Schoolbook font in Charcoal and Copperplate in Silver thread. 
Composition: 100% cotton.
Unisex Size Guidelines:
Small - fits up to 97cm chest; 114cm long
Medium - fits up to 102cm chest; 114cm long
Large - fits up to 112cm chest; 120cm long
XLarge - fits up to 122cm chest; 127cm long
XXLarge - fits up to 132cm chest; 130cm long
Care: Wash at 40 degrees max and line dry.
Care: Machine washable. 
Item added to your cart