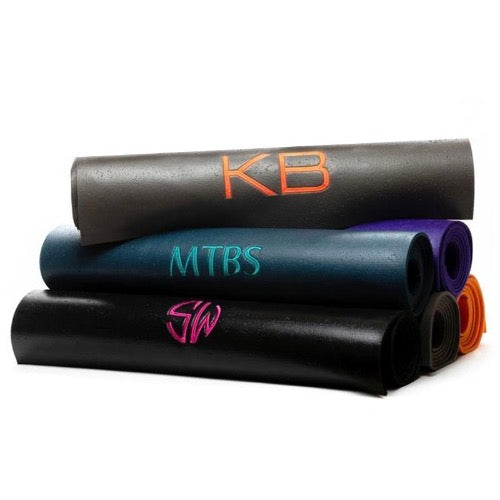 DESCRIPTION
Our Om Yoga Mat is the best combination of quality, functionality and price that we can find (and we have looked far and wide). It is thick, springy and comfortable to both stand and lie on, it's got great grip, is tear-resistant and best of all, it's machine washable so sweat and dust can be washed away.  
With your monogram on it, no one will confuse your mat for a studio mat. You can also embroider a mantra or motif such as a lotus or om symbol that helps with your practice, or a logo if you are a teacher or personal trainer.  
We will place the monogram at the bottom of the mat so it is behind you as you stand on it.  If you prefer to have it placed at the top of the mat, facing you (which works nicely for a mantra such as "Breathe" or "Om"...) please mention this is Special Instructions. 
Our mats pair well with our Yoga Mat Sling, Mat Carry Bag and Cork Yoga Blocks... create one monogram design and use it on the whole line to create a gorgeous set for yourself or a friend.
Monograms Shown: KB is shown in Copperplate font in Electric Orange thread.  MTBS is in Kabel font in Teal thread. SW is in Two Letter Circle font in Electric Pink. The second image shows Oklahoma font in Candy Floss Pink. 
Composition: Made of phthalate-free PVC with no toxins, meets OEKO-TEX standards
Dimensions: 183cm long x 60cm wide x 4.5mm thick, 4.5mm thick
Care: The anti-slip and gets even better grip after a few uses.  Machine wash to restore grip after extended use on the delicate cycle at 30 degrees. Lay flat or hang to dry, do not tumble dry or lay over a radiator.
Item added to your cart