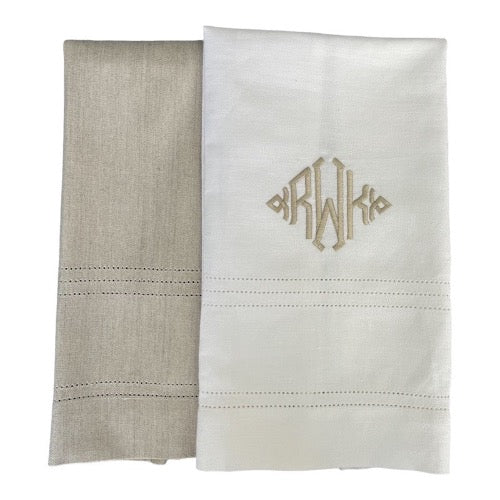 DESCRIPTION
We absolutely love these Punchspoke Towels featuring five lines of punchspoke detail. These are heavyweight towels made of a 60% linen/ 40% cotton huckaback fabric that could be used in the kitchen as a tea towel or in the bathroom as a hand towel.
They are thirsty and durable but the rows of pretty detail across the bottom makes them look dainty and elegant. These are a blank canvas ready for a gorgeous monogram. 
Monograms Shown: RWK is in our Point monogram font in Linen thread on the white towel, and in our Hexagon font in White thread on the beige towel.
Dimensions: 40cm wide x 70cm long
Composition: 60% linen / 40% Egyptian cotton.
Care: Wash at 30 and hang to dry. Iron with starch to restore just-bought crispness.
Item added to your cart