Large Maine Boat Tote
CBST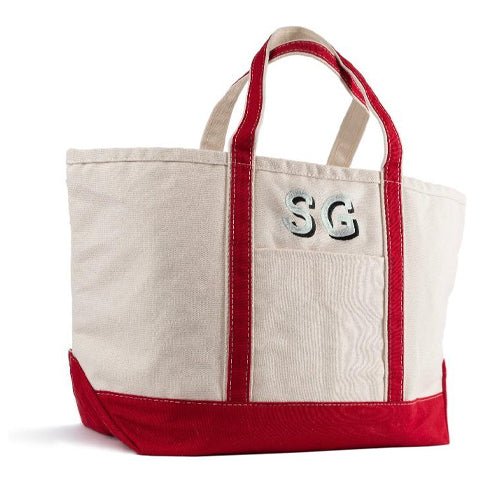 DESCRIPTION
This is it: the classic American boat bag.
Our Maine Boat Tote is made of heavyweight boating canvas, has a zip closure to keep contents secure, an outside pocket and an internal clip for phone or keys.  The genius of this bag is the canvas straps that are so secure the bag can carry bricks if it has to without showing any strain.
The Large Maine Boat Tote is a generous, durable, stylish bag that will go everywhere. It's also great for storing kids' toys (monogrammed with Lego, Playmobile, Stuffed Animals, etc).  Or for lugging things to boarding school or uni (monogram with a surname or initials).  Or for holidays (monogram with a house or boat name). Or just for errands (with your own monogram)!
You'll definitely want more than one for yourself, and a set of the Small and Large is really useful.  
If you're looking for a colour that we don't stock, or is currently out of stock, we may be able to get it for you so please ask by emailing hello@initiallylondon.com. .
Monograms Shown: SG is shown in Shadow font in Silver and Black thread; JWE is shown in Fancy Fleur in Navy thread thread. 
Composition: Heavyweight 100% cotton canvas.
Dimensions: 62cm W x 36cm H x 23cm D
Care: Wipe clean or use stiff brush under running water. Treat stains with Vanish. Do not machine wash.
 
Item added to your cart