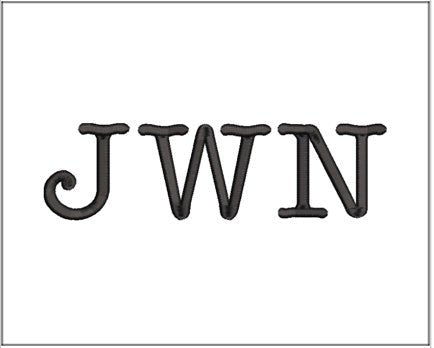 DESCRIPTION
Would you like to monogram a hard surface like a keepsake box, a trunk or tuck box, a favourite mug, a notebook or anything else you can think of that will take a vinyl sticker?   Our create-your-own monogram decal is the solution.
Create your monogram or text from any of our font styles and we'll cut it on permanent, weatherproof vinyl with a sticky backing.  This is the kind of material used for outdoor signage so it will last as long as it isn't physically scraped or peeled.
You will receive it with transfer paper backing, ready to press on to a clean, dry, solid surface.  To apply, peel away the transfer paper and press the sticky side of the film to the prepared surface.  You'll be able to see the text through the clear sticky tape to make centring and aligning it quite straightforward.  Press down and then rub the vinyl text with a ruler or coin to ensure the vinyl sticks to the surface before peeling off the sticky backing tape.   
Please note that the monogram preview will display as though the design will be embroidered in thread.  The actual decal will have crisp edges and a smooth finish.  
Item added to your cart