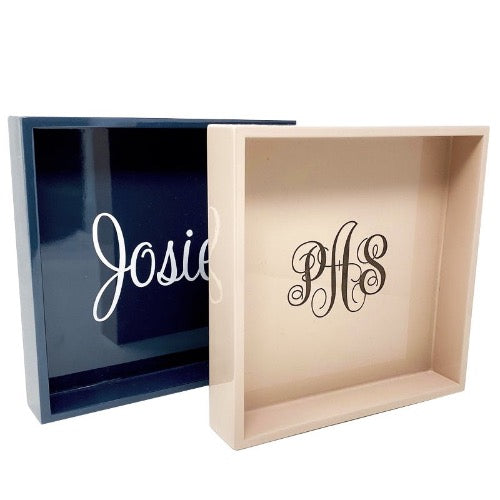 DESCRIPTION
Our Small Lacquer Tray is perfect for the bath, beside the bed, on the dressing table or a desk... it is perfectly proportioned to hold little bits that you want to keep organised while looking elegant.
The Small Lacquer Tray fits neatly inside our Large Lacquer Tray so you can create a colourful combination. Two small trays will sit side by side and a total of 4 can sit inside the larger tray.
We monogram these trays with water-resistant, permanent vinyl which can withstand heavy use. Monogram creatively... an elaborate shape font like Intertwined,, Arabesque or Circle looks fantastic.  We also love a name written in a pretty font, a single initial done quite large or a house name or post code also works well.  
Made in Vietnam: wood with layers of shiny lacquer finish.  Measures 19cm x 19cm x 3.5cm. 
Item added to your cart