Monogrammed Scented Candle
HVS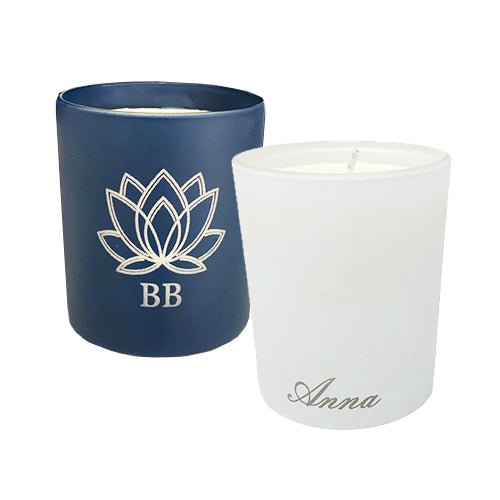 DESCRIPTION
We've searched high and low for the perfect scented candle that we could monogram with our fabulous font styles and here it is! Our Monogrammed Scented Candle comes in a reusable glass vessel that we laser etch with your monogram design. Once the candle is burned it can be reused as a small vase, a votive holder, a pen or plant pot... you won't want to throw it away because it has your name on it!  
Our candles are handmade just for us here in the UK using plant-based wax so they are vegan-friendly, sustainably made and long-burning.  
White candles currently come in three scents:  a gorgeous rose, a calming bergamot and lavender or a zesty citrus and spice, which works beautifully in the kitchen.
The Navy candle has a gorgeous blend of therapeutic frankincense, woody myrrh, ginger, nutmeg and cocoa so it's a bit more masculine than our other candles.  
We use laser etching to add the personalisation to this candle... the etching process burns away some of the powder coating on the glass, allowing the candlelight to flicker through the design.  Choose from our curated font style selection, or let us create a bespoke design or add your company logo by emailing us at hello@initiallylondon.com.
Monograms Shown: 'Anna' is shown in our Shadow font, we then have 'PSA' in Copperplate, 'AJM' in Three Letter Circle then 'AAE' in Intertwined font. The Navy Candle shows our bespoke Two Letter Triangle font. 
Composition: 100% natural vegan soy and coconut wax in matte white glass candle holder. They are parrafin- and sulphate-free.  
Dimensions: Large: Height is 9.5cm, diameter 8cm, capacity 30cl. Small: 8 cm height with 7cm diameter, capacity is 20cl. 
Care: Wash out leftover wax to create a useful vessel. (last image)
Item added to your cart