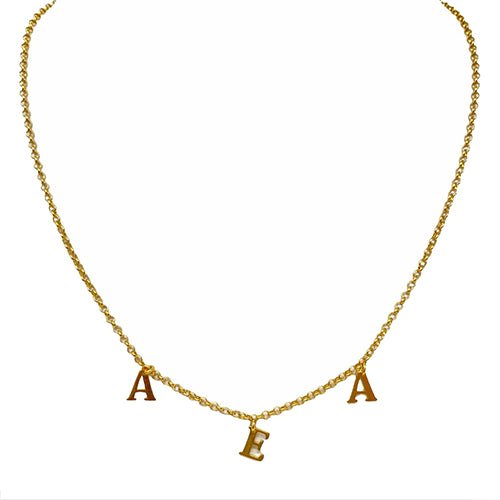 DESCRIPTION
Our Initial Necklace is a modern alternative to our traditional Intertwined Necklace.  It suits people with fewer than, or more than, the 3 initials that the traditional monogram requires. 
You can also spell out full names, favourite words or mantras... let your imagination run wild. We also love to see this made as a gift for mums or grannies with each child's first initial.  
Ours is a choker size with an extendable 16 inch chain to let it hang just below the point where your collar bones meet. Pair it with a monogrammed Mini Bond Jewellery Case or Lowndes Travel Case for an extra-special gift!
Composition: The Initial Necklace comes in sterling silver or 18k gold plate over sterling silver.  
Please note that we can only use upper case lettering and there is an 8 character limit for the design.  The preview is indicative only, the letters will be spaced out wider on the actual necklace.
The lead time for our jewellers to make your bespoke necklace is approximately 3 weeks.
Item added to your cart