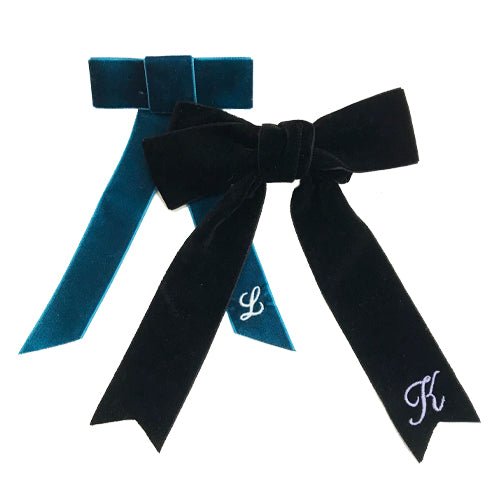 DESCRIPTION
Add a pretty touch to your outfit with our gorgeous velvet Monogrammed Hair Bows. These bows with a silver clip come in an array of rich colours, which are easy to wear and compliment all hair colours beautifully. 
The large bow has an 8cm wide clip for thicker hair or bigger pony tails.  The small bow has a 7cm wide clip and is better for thin hair.
Please note that the maximum amount of initials is only 1 or 2 for the monogram on these bows as the ribbon is quite narrow.  If you prefer a full name, we can write it along the length of the ribbon.  
We are offering only two font styles which we are confident will sew well:  a feminine Ballantine or a traditional Schoolbook font. 
Monograms Shown: Ballentines font in Lilac and Baby Pink thread. 
Composition: Cotton velvet ribbon with metal easy clip fastening. 

Dimensions: Smaller bow is approximately 15cm from top to bottom x 8cm wide across the bow x 2cm wide across the ribbon tail. The larger bow is approximately 18cm from top to borrom x 13cm wide across the bow and3.5cm wide across the ribbon tail.
Care: Wipe clean only. Do not iron. 
Item added to your cart