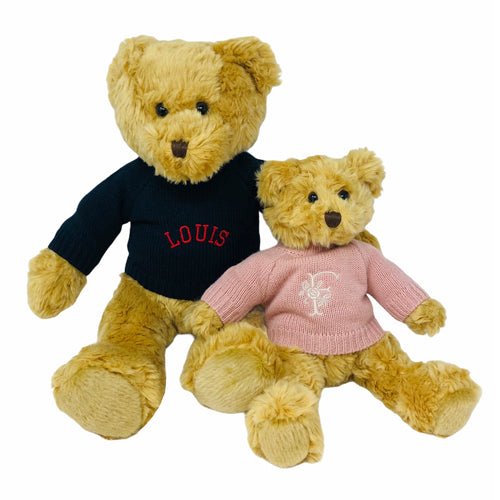 DESCRIPTION
When you need a really fun and unique gift, our monogrammed Teddy Bear is the one. Our soft and cuddly teddy has a removable jumper on which we monogram your design:  a child's name or initials, a mantra or a logo. We can also add a date or a motif below the text, just mention this in special instructions at checkout.  
We will monogram the design on the front of the jumper as standard but if you would prefer it on the back, please mention this in the special instructions box at checkout.
The bear is light brown and filled with beans, and has contrast pads on his paws and feet.  It comes in two sizes and there are several options for the knitted jumper.  Please note that the baby pink jumper only comes on the small size bear.
This toy complies with all European toy safety regulations.  It is suitable for babies and children of all ages.
Monograms Shown: The Blue Jumper shows LOUIS in Athletic font in Red. Please do pop that you would like the text in an arc in the special instructions. The pretty F design is our font Antique Rose in White thread, and the Felix font is Schoolbook in Golden thread. 
Dimensions:  Small bear is 30.5cm tall; large bear is 40.5cm tall
Composition:  Bear is 78% acrylic, 22% polyester.  Jumper is 100% acrylic.
Care:  Hand wash both the bear and the removable jumper.  
Item added to your cart