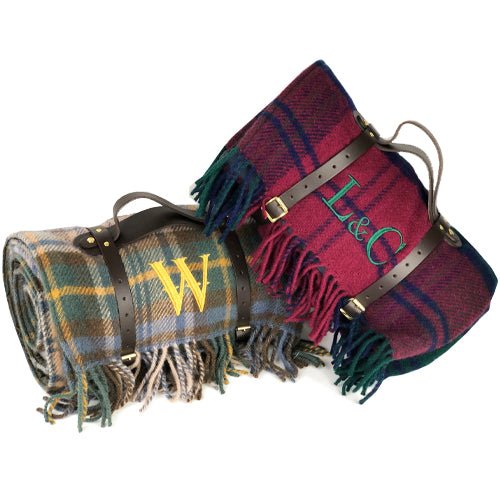 DESCRIPTION
The Berkshire Picnic Rug is both practical and stylish and has a gorgeous leather carry strap to keep it neatly rolled and easy to carry. This monogrammed rug is a very special and practical gift for anyone who loves to be outdoors. 
The grey plaid version of the rug looks great with thread colours like Charcoal, Navy or White. Our brand new Navy/Red check rug also has highlights of forest green, so we love this colour thread on it. Golden thread colour in an Oklahoma font is shown on our Earthy Check rug, but Cornflower and Forest Green threads also look lovely on this colour way.
Monograms Shown: Our Earthy Berkshire shows Oklahoma font in Golden thread, the Navy/Red Berkshire shows Schoolbook font in Forest Green and the Grey Berkshire shows Schoolbook in teal. 
Dimensions: 150cm wide by 183cm long.  
Composition: 100% British wool with a nylon, water-resistant backing.
Care: Machine wash at 30 max and line dry.
Item added to your cart