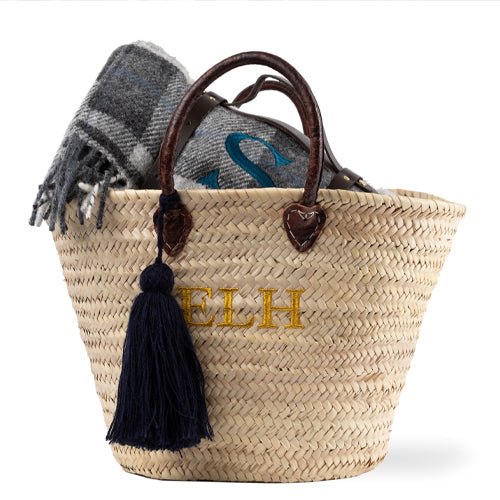 DESCRIPTION
Do away with plastic bags and shop in style with this gorgeous monogrammed Covent Garden Hand Basket. It's also perfect for storage, weekend jaunts, a beach holiday, a handy thing to have in the boot and more.  We stock in two sizes:  a standard size and an oversized large one that is especially useful for storage.
This lovely artisan basket is handmade in Morocco from palm leaves from the doum plant. It is unlined and features padded leather handles that fit comfortably in hand or over the arm but may be too short for over the shoulder. If you want a shoulder bag style, please check out our selection of long leather handles here.
The monogram is embroidered so the stitches will move with the palm leaves and will never fade, crack or peel.
Monograms Shown: EC is Schoolbook font in Electric Orange. ELH is Schoolbook font in Metallic Gold thread. SB is Schoolbook font in Copper thread.
Composition: Palm leaves with leather handles.
Dimensions: While the shape and size varies due to the handmade nature of this basket, there are two sizes of the basket:
   Small - measures approximately 28cm tall x 43cm wide across the open top x 14cm deep across the base.  
   Large - measures 38cm tall x 48cm wide across the open top x 21cm deep across the base.
The tassel is not included but can be ordered separately from the Tags & Tassels tab.
Item added to your cart