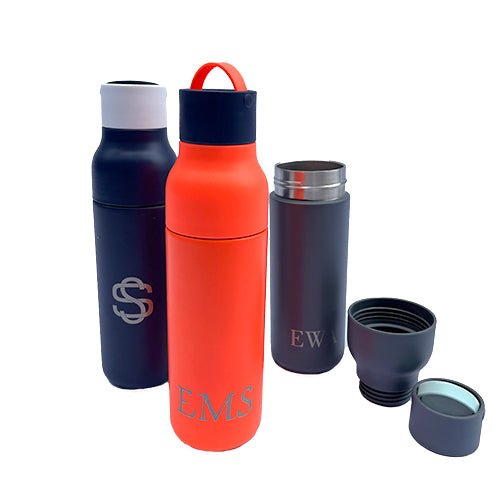 DESCRIPTION
We've fallen in love with this all-purpose hot/cold bottle from Lund London. We've made it even better with a laser-etched monogram.
These well-designed bottles not only look great but also have loads of practical features that make this the best thermos bottle that we've come across. The double opening (narrow at the top and wider below) makes the bottle so easy to clean and versatile to use: cold drinks stay cold and hot drinks or soups stay hot all day long.  
The top part can be used as a cup when drinking straight out of the bottle isn't quite right. In addition there's a built-in grab handle so the bottle can be clipped on to a backpack. 
Holds 500ml 
Wide opening fits standard ice cubes
Cup option makes eating soup easy
Vacuum insulated for all-day hot/cold feature
Dishwasher safe
High grade stainless steel
Fits in car or bike drink holders 
Airtight and leakproof seal on both the narrow and wide openings
BPA, PVC and phthalates free
Item added to your cart