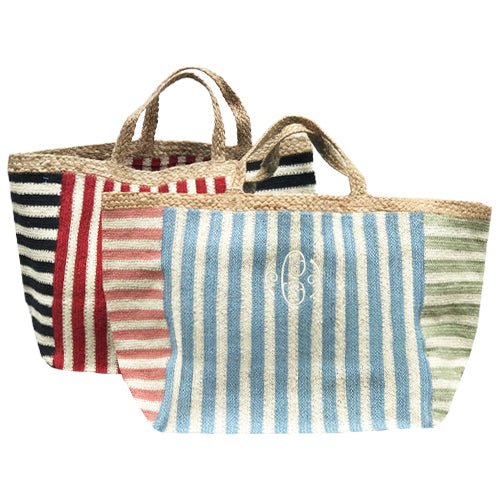 DESCRIPTION
Our gorgeous Jubilee Tote Bag is a stylish, lightweight yet roomy bag for all occasions, the perfect size for beach trips, park days, mooching to the shops and substantial enough to fit laptops and paperwork.
Made from gorgeous 100% organic jute this bag is versatile, eco-friendly and fully biodegradable. It comes in 3 colour options:  red/black/ivory, sherbert shades (pink/green/blue/ivory) and a multi-colour rainbow. 
Monograms Shown: The Red/Black bag shows JLW in Intertwined Font in Linen Thread. The Sherbet bag shows C in Lindsay Font in White Thread.  
Dimensions: 55cm x 35cm x 25cm 
Composition: 100% Jute
Care: Wipe clean only.
Item added to your cart