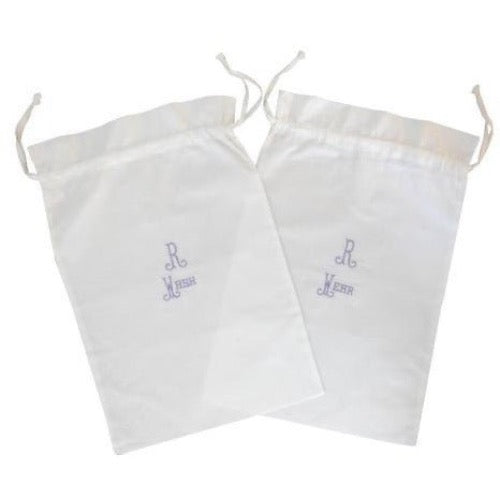 DESCRIPTION
A monogrammed Lingerie Bag is one of our favourite travel essentials.  Our version is a 100% cotton double drawstring bag, perfect for staying organised while travelling.
The simple but elegant bag can be designed with a elaborate initial monogram, a name, a phrase or something completely bespoke. Pack up your clean lingerie in one bag embroidered with "Wear" and have a second one embroidered "Wash" for worn lingerie.  Add a monogram above the text to make sure no one else in the family steals this good idea.
Or have separate bags embroidered with Hosiery, Bras, Pants, Socks... the possibilities are endless. These make lovely gifts, especially with something pretty tucked inside.
Composition: 100% cotton. 
Dimensions: 25cm W x 36cm H.
Care: Machine wash at 30. 
Item added to your cart