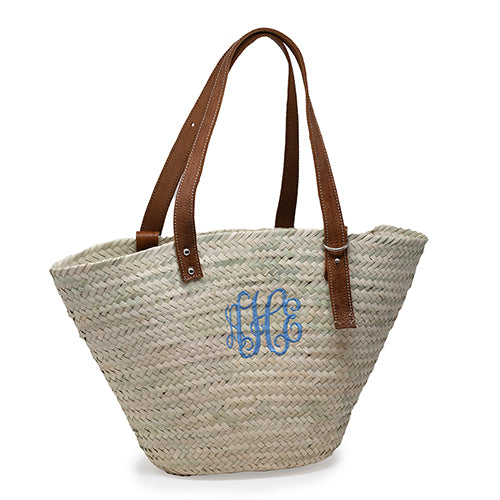 DESCRIPTION
The Maltby Basket is made of finely woven palm leaves and features leather straps which convert from shoulder length to hand-carry length. Two baskets in one! It is a more delicate version of our Covent Garden Basket. With a neat finish at the top, a thinner weave, and elegant flat handles which can be adjusted in length. We love the sophistication of this basket.
We sourced this basket on our buying trip to Morocco, where Palm tree leaves grow abundantly. Palm leaf is a sustainable material, as well as durable. We worked with an Artisan Women's Collective to create these, discussing shape and style over cups of Mint Tea. They hand weave them for us with care and we love that it keeps an ancient old tradition alive. Read all about our Basket sourcing and their sustainable qualities here. 
Monograms Used: AHE Intertwined font in Cornflower Blue. HW Schoolbook font in Dragonfly blue. 
Composition: Leather handles with metal accessories and palm leaf basket. ** This basket is not designed to hold a heavy weight. 
Dimensions: 30cm height of basket, 24cm height of handles, 45cm width at top of basket, 15cm depth. 
Care: Wipe clean only. 
Item added to your cart