Oblong Linen Cocktail Napkins
BBL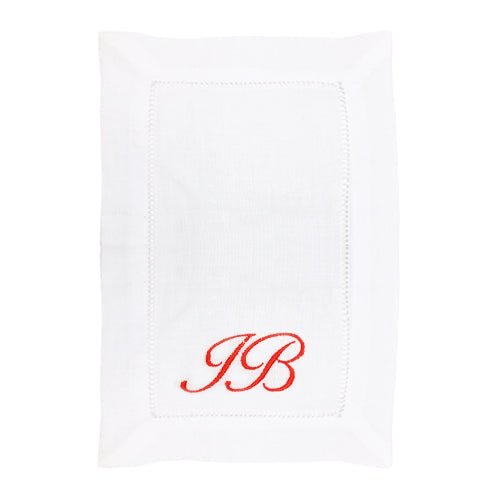 DESCRIPTION
Our Oblong Linen Cocktail Napkins are the perfect size to sit a glass while having your monogram fully on show, or to use at standing drinks parties for keeping fingers clean and dry as canapés are passed.  These crisp white linen napkins measure 15cm x 23cm and have a 2.5cm hemstitch border so they can wear any size monogram well.  They fold neatly over in half for display.
We love these for a wedding or big event, where they can be used instead of place cards or can be gifted as keepsakes for the guests.
The monogram shown here is a simple Ballantine font in electric orange thread.  We'd love to see a beautiful Victorian monogram centred across the bottom, or a gentlemen's style Niagara font done slightly smaller.  As always, if you would like the monogram sized differently than the preview shows, please just mention your desired sizing in the Special Instructions box at checkout. 
Monograms Shown: Here we have Ballentines font in Electric Orange thread. 
Composition: 100% White Linen.
Dimensions: 15 x 22 cm with a 2.5cm hemstitch border.
Care: Wash at 40, line dry, iron with steam and starch to restore just-bought crispness.  Treat any stains with Vanish before washing.  
Item added to your cart