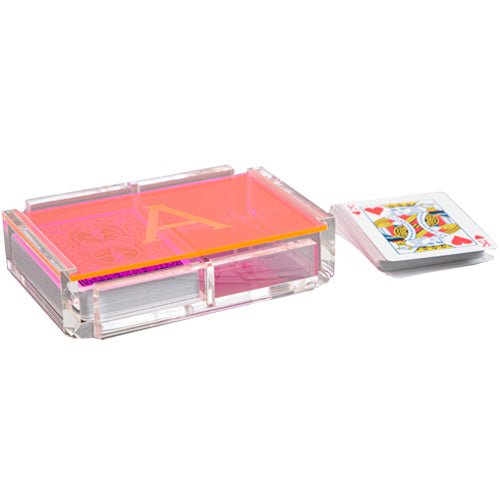 DESCRIPTION
The perfect gift for card game enthusiasts.  This playing card deck of modern design is handmade from a single piece of perspex acrylic. The sliding lid comes in three colours:  clear, neon pink and neon yellow. We laser etch your monogram design which adds a very chic finish.  On the clear case, the finish is white; on the pink and yellow cases, the finish is a slightly paler shade than the original colour. 
Our shape monogram fonts work really well on the card cases.  But if you prefer, you can use dates, house names, logos or crests instead of a monogram. Email us to enquire if you'd like to use bespoke artwork. 
The Card Case comes with two decks of Bicycle 808 Standard Index playing card decks with blue and red backs. Durable and air cushioned for a great feel no matter what game you play.
Material:  100% acrylic
Care:  Wipe clean with a microfibre cloth.
Item added to your cart