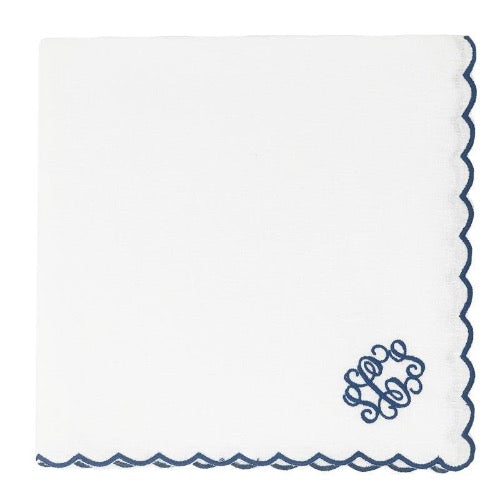 DESCRIPTION
Our Scalloped Napkins feature a gorgeous stitched scallop border.  The little detail around the edge adds a little extra glamour to the table.  We place the monogram in the corner on the diagonal because the napkin's scallop detail shows best when folded on the diagonal or used in a napkin ring.
For the navy version, choose a monogram in navy to match the border or use a second colour to create a coordinated look with a tablecloth, china pattern or flower arrangement. For the white version, choose whatever monogram colour you like! We love a traditional white-on-white look too.
Composition: 70% linen 30% cotton.
Dimensions: 50cm x 50cm.
Care: Machine wash at 30 degrees max and line dry.  Iron on low heat with lots of steam.
Item added to your cart