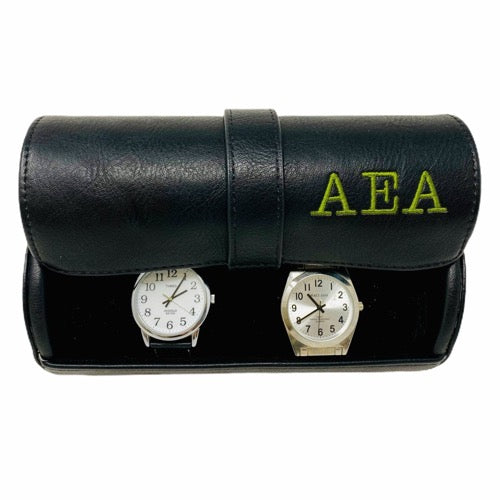 DESCRIPTION
A perfect present for the person who loves watches.  Our Westbury Watch Case is made of leather and has a padded insert that holds up to 3 watches securely.  It's a great gift idea for a graduating student, a special birthday, a wedding party favour or a gift for a watch collector!
The monogramming adds a personal touch to a luxurious yet practical accessory for travel or home.   
Monograms Used: AEA is Typewriter font in Olive Green Thread. EWA is Circle font in Linen Thread. 
Composition: 100% leather with cushioned velvet roll inside.
Dimensions: 18.5cm L x 9cm W x 9cm H.
Care: Wipe clean with a damp cloth or use a specialist leather cleaner.
Item added to your cart