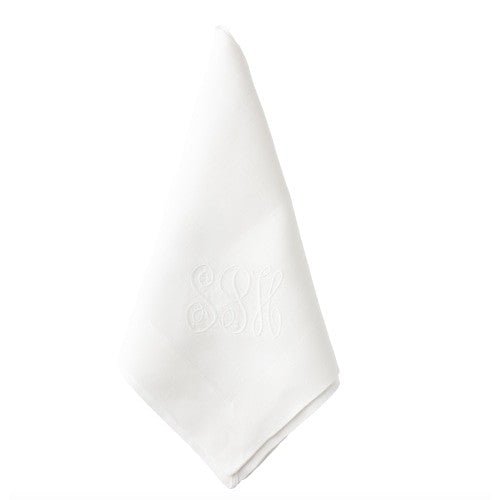 DESCRIPTION
When you want a simple but elegant napkin without the traditional look of a hemstitch border, our classic White Linen Napkins will serve well.  These are handmade of 100% pure linen and have mitred corners and a plain hem.  
They have a crisp, classically modern look and measure 50cm x 50cm so are perfect for either a formal lunch or dinner.  
They are sold individually or in a set of four.
This simply gorgeous napkins is a blank canvas that is perfect for any monogram design or thread colour. Please select where you would like the monogram placed:  in the corner on the diagonal, or along the bottom edge towards the centre (so the napkin can be folded into a rectangle).  If you would like the design placed elsewhere or have specific requirements as to thread colour or letter size, please mention this in Special Instructions at checkout or feel free to email us at hello@initiallylondon.com.
Please note that this napkin comes also comes in black (listed separately), which is often preferred for formal events because black napkins do not leave white lint on dark clothing. 
Composition: 100% linen. 
Dimensions: 45x45cm.  
Care: Use Vanish to treat any red wine or lipstick stains before washing. Machine wash at 30 degrees max and line dry or tumble dry on low heat to avoid shrinkage.  Iron with lots of steam.  
Item added to your cart