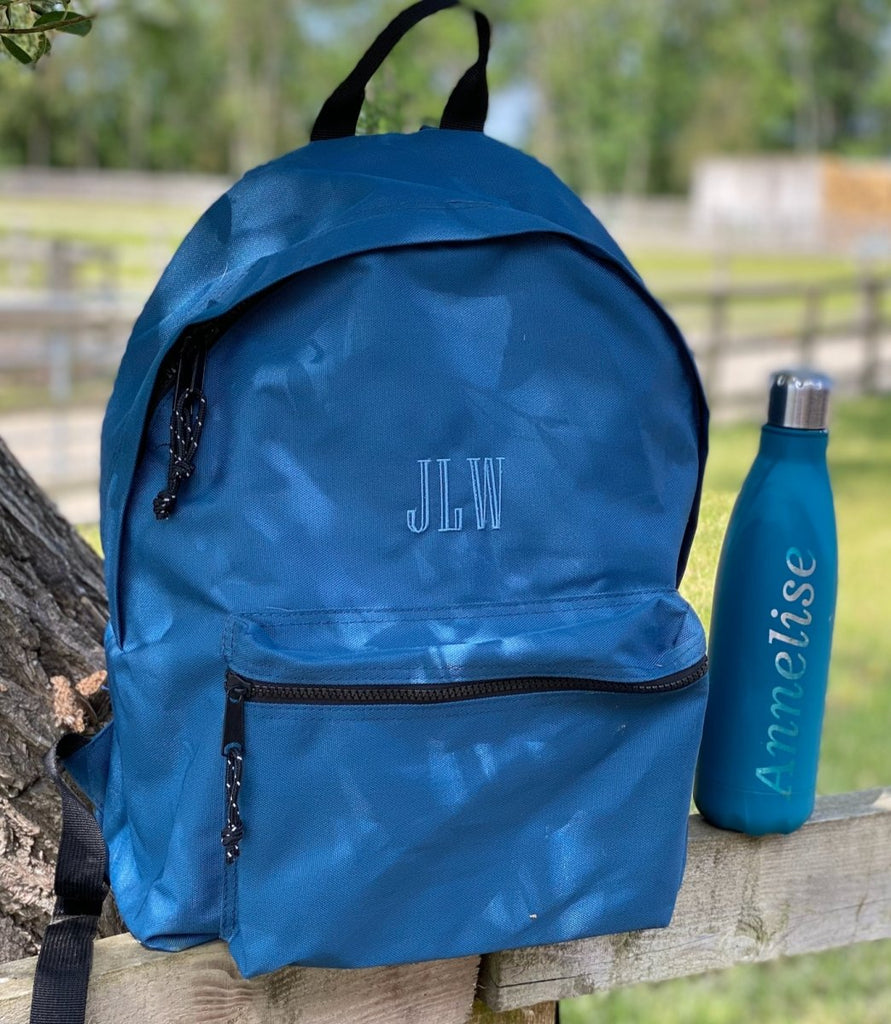 It's that time of year...
...the quiet pause in late August before the adrenaline-filled agenda of September begins.  Whether it's for a new school year, the start of the busy season at work or a big project at home, these low-key couple of weeks before the summer holidays end are a great time to think through the problems, make plans, write lists and generally get organised. 
It was this time seven years ago, when my eldest daughter was heading to university, my second daughter moving in to sixth form, my son was starting at boarding school and my youngest daughter was moving from junior to senior school... I wished I could find a monogramming company in the UK that could provide tote bags, suitcases, laundry bags, wash bags, towels and more with monograms.  I was fed up with sewing name tapes and sticking on labels.
I had been buying these kinds of things from American monogramming companies ever since I had moved to London from New York, begging friends and family to bring them along on their visits or send them by post.  I searched high and low for a UK source and when I couldn't find one, Initially London (my fifth baby) was born.  
I built the Initially London product line around everything I needed for my own family and home, sourcing as much as possible from UK and European suppliers and putting a British twist on the choice of monogramming fonts.  I learned very quickly that some American fonts and products were just never going to make it here.  If you poke around Pinterest or Etsy, you'll know what I mean!
But wow, have I been delighted by the appetite for monogramming in the UK.  It is, after all, a distinctly British and European tradition from centuries ago, made modern with graphic design technology and machine embroidery.
So from the perspective of a mother of school-aged kids and a monogrammer, let me share a few of my favourite Initially London products for students of all ages:  from nursery to graduate school and everything in between.  And let Initially London help you get organised.
Nursery 
Packed lunch? Change of clothes? Show and tell? You'll want little bags to store all these essentials... lightweight enough for your little one to carry and monogrammed to make sure the nursery staff knows who they belong to.  Monogram with names or initials, we don't limit the number of characters you use. For a small additional charge, add a motif such as a dinosaur, butterfly, car, fairy or any other obsession your child may have.  
 Our Junior Backpacks are perfectly proportioned for little backs yet big enough to carry reading books, shoes and special toys. 
How adorable is our new Kids Cool Lunch Box?  It's covered in cotton seersucker that comes in a navy blue, pale pink or Camo print.  The inside is insulated and there's a useful outside pocket for a note from mum.
Our monogrammed Kids aprons are p
erfect for messy art projects, baking sessions, keeping clothes clean during meals... We carry them in a range of standard colours but if you've got a specific colour in mind, just let us know and we can source it for you.  
Is a smock required at your nursery?  We can embroider the child's name on a smock you provide us, and we are delighted to work with schools who want us to handle the embroidery programme remotely. Email us to enquire on bespoke@initiallylondon.com.  
Primary School
We've introduced a number of sustainably made products aimed at this age, because primary school children are some of the most outspoken eco warriors as they learn about the world around them. Recycled backpacks and duffles, reusable insulated bottles, and all natural cotton canvas pencil cases are some of our best selling items for primary school-age children.  Monogramming makes sure they don't get mislaid.  And they make great gifts and party favours.
Our Recycled Chelsea Backpack is a sustainably-made take on the classic backpack. It is made from 100% recycled polyester so it's perfect for your little eco-warrior.
  Plastic free bottles replace countless plastic ones. And insulated bottles save so much energy by keeping your drink hot or cold for hours, all with the natural power of a vacuum.  If you want to know how, scroll back through our blogs, we've written all about it. We laser etch your name or initials on our rubber coated bottles, which have a very tactile, non-slippery feel.  We can even add your school or team logo. 
  Our Striped Pencil Cases are made of heavyweight canvas, and come in pink, red, green and blue stripes and will never* go astray once a name or initials are embroidered on it.  They work well with our medium Maine Boat Totes which are perfect as book bags or even overnight bags.
(*well, maybe not never)
Senior School
Binders, laptops, sports kit... the lugging gets intense in senior school. And the probability that the bags will be lost or left behind increases exponentially.  You'll want some classic, durable bags that are monogrammed creatively to make sure they come back to you.
Our Maine Boat Totes are heavy duty canvas bags that will last forever.  They come in three sizes and it's the large that makes a great uni book bag or weekend holdall... it can carry heavy books and binders and has a zipped top closure to keep contents secure.
An essential piece of kit lifted up with a great monogram.  Our laptop case is padded and has a secure zip to keep the laptop and its cables secure.  There is a front pocket that will hold a notebook, newspaper or folder. It comes in two sizes (13" and 15") and two colours (black and grey). We love a retro Typewriter font monogram on a laptop case but any of our monogram fonts work really well.
  Muddy sports shoes have a classy home in our monogrammed nylon Dulwich Shoe Bag.  We have larger versions of this bag suitable for hiking boots (the Richmond Park Boot Bag) or wellies or riding boots (the Hampstead Heath Boot Bag). 
University
This is where monogramming really comes in to its own. Embroidered initials on towels and pillow cases ensures they don't go astray in the laundry room. Black wheelie suitcases are transformed into unique pieces with a great monogram. We sell wheelies in two styles:  big and huge.  A classic Fleet Garment Bag will keep formal dress clean and pressed, and it has a matching Fleet Wash Bag to make a natty pair. And a set of St James Wash Bags, one in every colour, to keep first aid & medications, nail varnishes, contact lenses, face care and body care stored neatly and stylishly would be a great gift for a fresher.
 We like white towels because they show when they need to be washed and can withstand any temperature in the machine.... useful for university students.  However the slate version is ideal for use as makeup towels. And for boys.  Our fluffy, thirsty, utterly gorgeous Leighton Towels are lovely gifts for the uni-bound student.
  Our Heathrow Wheelie is huge, it's got wheels and a great monogram makes it stand out from the crowd. You'll appreciate this big, lightweight bag when you're packing up your uni student.  It folds flat to fit under the bed when it's not in use too.  The bag comes in black (as shown) or grey). If you prefer something a bit smaller, have a look at our Gatwick Wheelie Bag.  
  We sell lots of pretty wash bags. This one, the St James Wash Bag, is cotton seersucker with a water-resistant lining and it can be machine washed too. It comes in 5 pretty colours including navy, red, pink, yellow, mint and a brand new green. If you have trouble choosing a colour, don't worry... your student can definitely use more than one.  
Hope these suggestions are helpful and get you thinking about how to get the students in your life set for school.  My team and I have loads of other suggestions so if you need any help, just give us a call or an email on hello@initiallylondon.com
x Jane