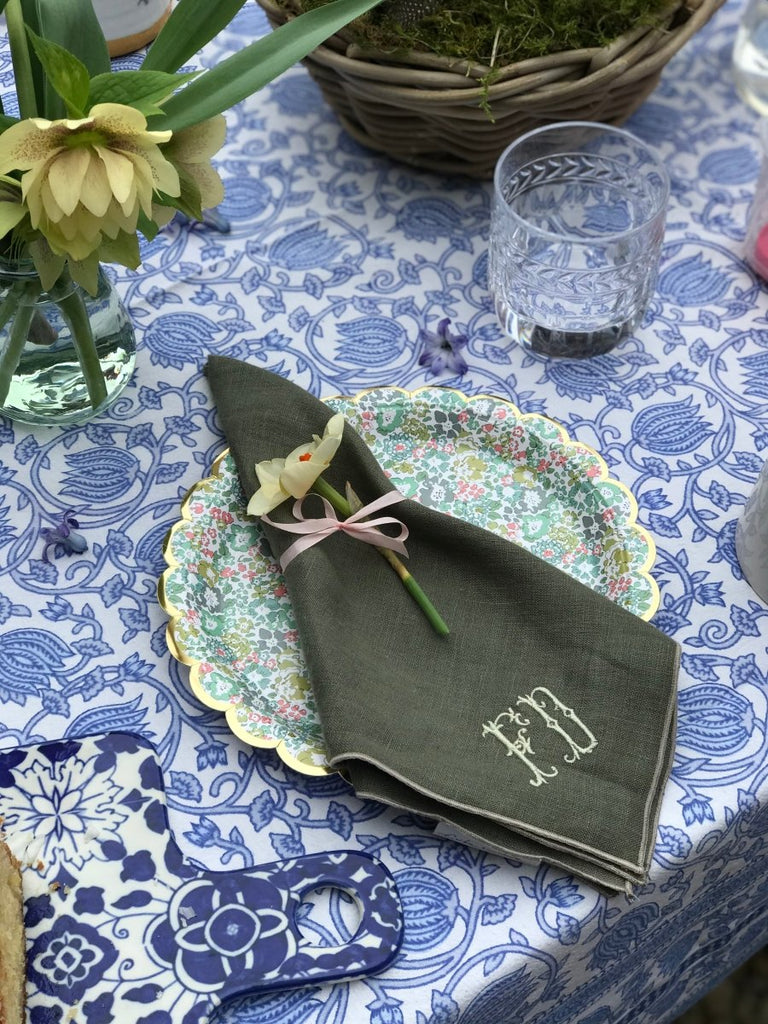 At Initially London our Bespoke Fonts are all about personal expression. While our monogramming tool offers over sixty fonts, sometimes a bespoke design provides our clients with something extra special. Graphic artistry gives you the freedom to design a monogram that feels entirely right for the moment.
Monogramming has a history of being elegant and yet practical. During the middle ages, wealthy families possessed only the finest linens. Partaking in group washday gatherings, monograms became crucial in identifying one family's linen from their neighbours. Monogramming was also a way of showing off a family's wealth and style as the washing was laid out to dry together in the countryside sun. We have some wonderful Vintage Fonts which are perfect for our linen guest towels, napkins and coasters. Vintage Leaf, Paris and Brigitte will remind you of classic French cloths, as the names suggest. We love these decorative fonts for their nod to family tradition and romantic decoration, they work perfectly as a couples monogram, combining the pairs initials together to create something truly personal.
Traditional French monograms are usually tone on tone, beautiful white linens with matt white thread, like our Hemstitch Linen Guest Towel sampled in Brigitte. You can update this classic antique look by choosing a contrasting thread colour, for example here on our Edgy Linen Napkin where you could choose to match the colour of the monogram to the napkin trim (it comes in Red, Navy, Green or Rose). Embroidered with Antique Monogram, this elaborate French font is given an entirely new life through inspired design choice. For napkins, a Monogram can work wonderfully as a dinner place setting, you could pick out an accent colour from your tableware or flowers to accentuate the decor and add an extra personal touch to the occasion.

If you are after a more modern looking monogram, we have some American inspired fonts such as Four Letter Circle, Nola, Ribbon and Gothic Triangle. These fonts are sure to make an impact, with graphic lines and dynamic shapes, they transform even the simplest item. Embroidering towels can modernise a bathroom and make it feel so much more luxurious, particularly if you match your monogram to your tiles. The towels below use Gothic Triangle font in contrasting colours to really catch the eye and work as a cohesive set. You may be familiar with some of our standard shape fonts, and the American tradition of formatting these monograms; with the surname initial centered between the first and middle name initials. Nola font works wonderfully for this way of designing too, with a contrast in scale between the three letters. This layout is also perfect for combining married couples initials, sharing a central surname initial. 

Want to go large? Bean Vine, King, Modern Block and Monogram Chic sew best big, this makes them the perfect font choice for bedding and heavier fabrics such as towels or upholstery. The blue towels above use Modern Block in subtly contrasting colours for a distinguished look. Adding a personal monogram to bedlinen can elevate plain sheets, an oversized monogram transforming the space. Our single initial bespoke fonts are another great option, Sydney is bold and confident with elaborate swirls and a beautiful raised texture. Flower Dots is a lot more dainty and detailed while Freida looks ornate with the monogram sitting on top of a plant-like curl, as seen below. A single letter font is practical for family use and has an extended life beyond marriage, or through the generations as a heirloom piece.
Bespoke fonts can pair well with bespoke items. Over summer we collaborated with Patina Atelier
(@patinaatelier)
who run a refurbishing and reupholstery business, refreshing objects for the home into desirable statement pieces. If you've visited our new studio in Parsons Green, you have probably noticed our Patina Atelier chairs, upholstered with the most beautiful stand out monograms. Vintage Vine is one of our most detailed and elaborate bespoke fonts and was the perfect choice for transforming a pre-loved wooden chair. Like our bags, a well made object is a great place for a personal monogram, check out Patina Atelier's recent finds online and at their Antiques of Kingston shop as we would love to collaborate again.
Reflective of history and heritage, monograms tell a story, and with a range of Bespoke Fonts, we can help you to tell yours. Follow the Bespoke section on our website or come into the studio and see our wall of fonts for yourself to create your perfect monogram.