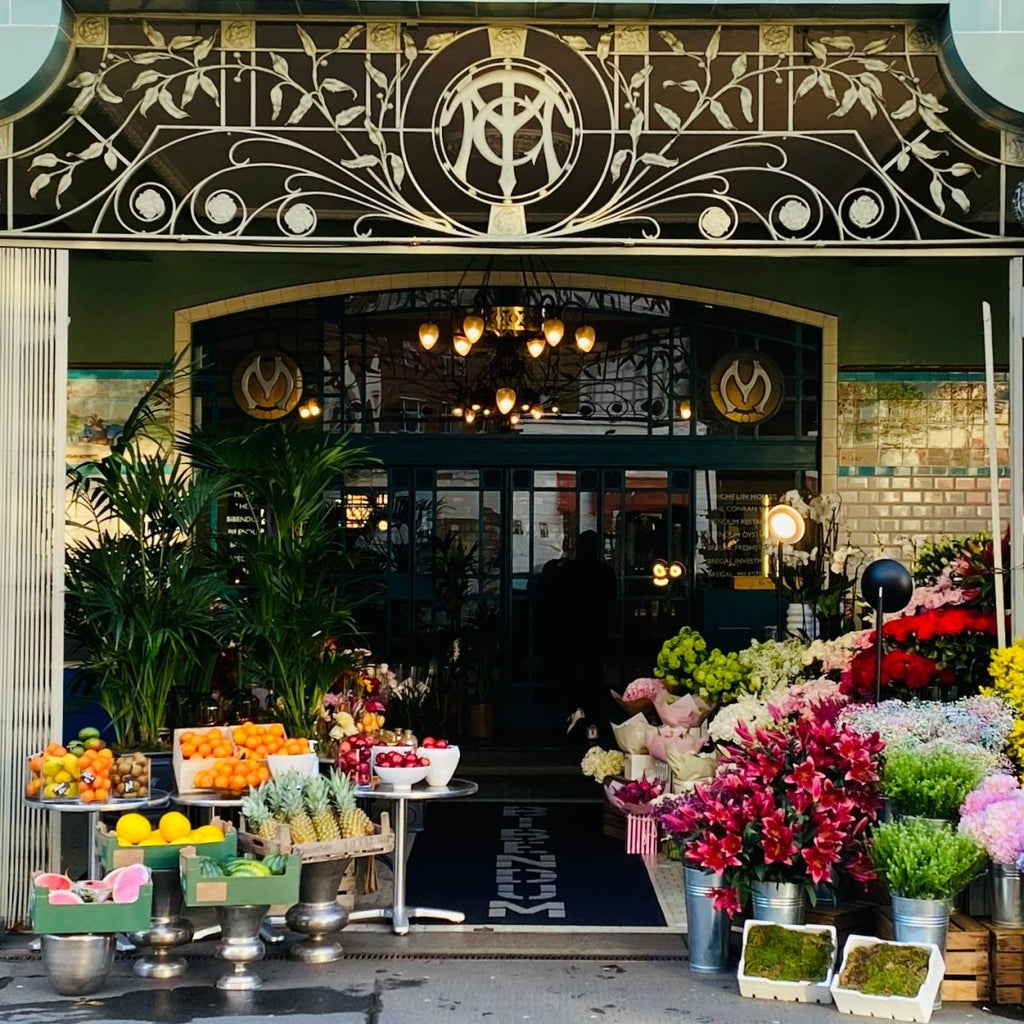 Springtime encourages you to look at the world with fresh eyes... 
On the eve of March, with pastel blossoms and bulbs bursting in to bloom under (mostly) blue skies, Spring is nearly here in London and there's no better time to be out and about. In the words of one of my childhood heroines, Laura Ingalls Wilder, "Some old-fashioned things like fresh air and sunshine are hard to beat." 
We of course would add one more "old fashioned" thing that's hard to beat:  monogramming! Why old fashioned? Because monogramming is a centuries-old tradition.
Mimicking ancient Roman emperors' practice of using initials to declare something valuable as "mine", the clergy in the Middle Ages embroidered initials on their vestments;
medieval guildsmen and artists used artfully-designed monograms as a signature on their works;
monarchs of the Renaissance carved their initials on palaces and monuments; 
Aristocrats of the 17th and 18th centuries forged them on walls and gates enclosing their homes and gardens;
and by the Victorian era, monogramming absolutely everything was standard practice for anyone with the trappings of wealth. 
If you're looking for evidence, monograms from across the centuries are all around you in Britain and Europe. We love looking for historical monograms while strolling the streets of London and beyond.
Here are a few of our favourites in our own neighbourhood:
(Top) 
The Cadogan Estate monogram on the gates to Cadogan Place Gardens on Sloane Street
(Bottom) A Victorian. monogram on Albert Bridge in Chelsea
(Left) 
The Duke of Westminster's monogram on a portico in Pimlico
(Right) A monogram in mosaic tile on a doorstep in Cadogan Gardens in Chelsea
These historical monograms inspired so much of the monogramming, and typefaces more broadly, that came about as a result of the Industrial Revolution. The practice of distilling a name to its initials and executing it with graphic flair was adopted by big industrial companies as a marketing strategy. And those iconic monogram logos have, in turn, inspired us.
The original Art 

Deco

 Great Western Railway logo, for instance, inspired our own Circle monogram shape font:
Branding with a well-designed monogram has become the rule rather than the exception in today's business world, with the M in McDonalds, the interlocking C's in Chanel, Hermes' H and Louis Vuitton's LV being just a few of the iconic monogram logos that are recognised globally. We don't even need to show you a photo to get that point across.
Here's a challenge... and a reward!
As you're out and about this Spring, keep an eye out for monograms. Whether it's on a building, in a park, on a piece of silver or vintage linen, we'd love to see what you find. 
We're building a story about the lasting legacy of monograms and we need good examples.  
If you send us a photo, we'll send you back a discount code towards your next purchase!  Send photos by either tagging us on social media (@initiallylondon) or emailing them to hello@initiallylondon.com.
We can't wait to see what you find!