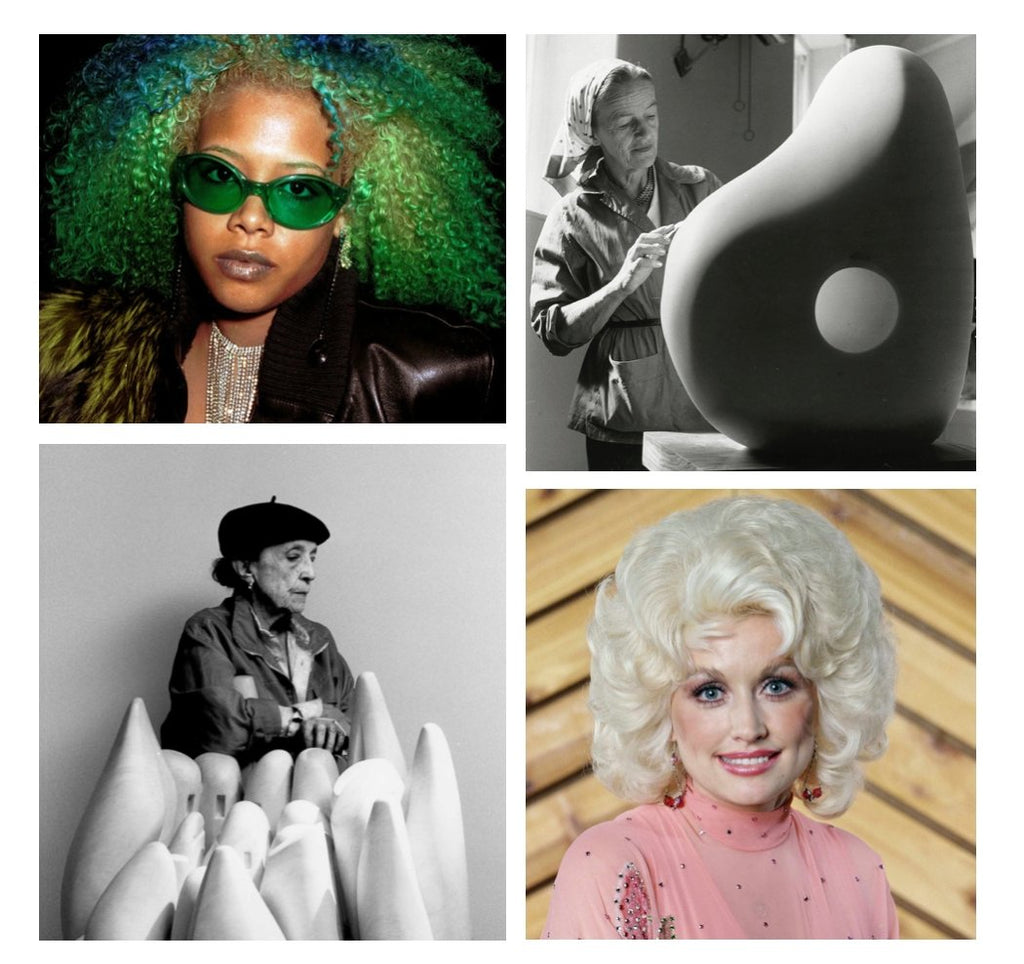 To celebrate International Women's day here at Initially London we all carefully designed a bespoke monogram for a Woman who's inspired us. Scroll down to see who our team has picked!  
Who inspires you and why?
Holly
My Granny, Joan, is a very strong and inspiring lady. Dedicating much of her life to being a Red Cross nurse, always putting others ahead of her and being incredibly courageous. For many years Granny served as a nurse in dangerous conflict situations overseas, and later in life she lead a band of 900 volunteers, overseeing support schemes. We are so proud that she was awarded a greatly deserved OBE in 2001 for her long service with the Red Cross. At 90 years old she's still caring for others, painting, learning... a true inspiration. Plus a Glam-ma! 
I have chose Antique Rose font in Cornflower Blue thread, as they represent all the beauty she notices in the every day through nature.
Jane
Dolly Parton because she is a talented singer/songwriter/actress/author & philanthropist! Dolly is hardworking and generous and always has a positive attitude. I'm inspired by the fact that she's never forgotten where she came from and is always true to herself.
For Dolly's monogram I have chosen Hot Pink thread because its Dolly's signature colour and Intertwined because it's a feminine and old fashioned font.
Rosie
Barbara Hepworth as she is a Powerful Female Artist! I'm inspired by Hepworth's sensitivity with the materials and space her sculptures take up when interacting with the natural world.
I have selected 2 letter circle with Charcoal thread as it reminds me of the 'Divided Circle (Two forms)' sculpture in the Barbara Hepworth Garden in Cornwall. A place I find very peaceful.
 Paula
For me my inspiration is Rosa my Mum
 because she's tiny like me, and strong like a Lion!
I have chosen Old English as my font style and Rose for her thread colour as she's loves the traditional style. 
Prisca 
Kelis because she's a very versatile artist. I love that she has challenged stereotypes for Black Women in the music and fashion industry throughout her career. I also love that she's a confident and outspoken women who's not afraid to express her opinion whether people like it or not.
I have selected Flourish Light for her font style and Dark Brown for her thread colour. 
Clarissa
My Mom, because she is loving and caring and has the kindest of souls.
To represent her big heart I have chosen
Red thread and our
 Heart font.
Natalia
 Louise Bourgeois has inspired my creative process since I came across her work in college. Bourgeois was ahead of her time for the artwork she created, her career lasted 8 decades and during that time she played a colossal role in inspiring the feminist art movement. She was a conceptual genius who's carefully thought out work is thought provoking, emotional, psychological and intelligent. 
I have chosen Fancy Fluer as her font style due to the fact that it has many complex layers like her Art and the wynorrific sharp edges remind me of her sculptures. For the thread I have selected 
Red as it's a colour that represents multitude of contrasting things. 
 Florence 
Lisa Hinkley (My Mum) has been very inspiring all my life, but especially this last year. She has taken everything in her stride and made the best out of a bad thing. Throughout all her recent treatment, she goes back to work as soon as she can.
As a headteacher, she is so dedicated to her work, and all the kids and staff love her. This is shown with all the kind words and gifts she's got from everyone since she's been ill.  
I've chosen Navy as it's my Mums favourite colour and Charcuterie as it's a unique font just like her!
 Poppy
The person who's inspired me most is my Mum. She's been through lots of trials and tribulations throughout her life and still continues to carry on with a smile on her face! My Mum is the best lady in the world and she's always willing to help others and put them first. 
I've chosen Pink thread with intertwined as my font style, it's a beautiful monogram just 
like her! 
Natalia Littleton